Discover Talloires – The Hidden Gem of Lake Annecy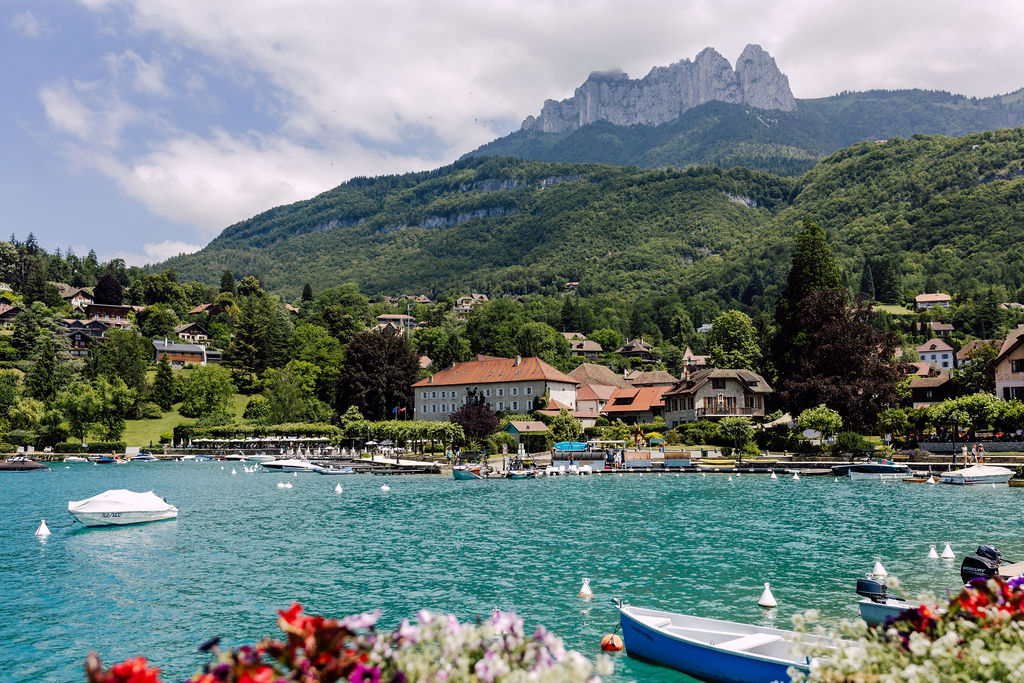 One of the many wonderful things about the French Alps is the abundance of hidden gems you can discover just by travelling a short way in any direction. When you come and stay with us at The Farmhouse in Morzine we highly recommend that one of the things you include in your itinerary is a day trip to the wonderful village of Talloires. 
Located on the shores of Lake Annecy, Talloires is a beautiful village at the foot of the Alps. It doesn't take long to drive there from Morzine and the journey itself is sure to be stunning. If you have the time whilst you're in the Haute-Savoie we are sure you won't be disappointed by what Talloires has to offer.
Why You Should Visit Talloires
Surrounded by undulating mountains, aquamarine water and beautiful forests, Talloires has everything you need for a perfect day trip out of Morzine. It is always fun to explore new places and the landscape surrounding Talloires differs enough from Morzine to make sure you know you're in a different slice of paradise.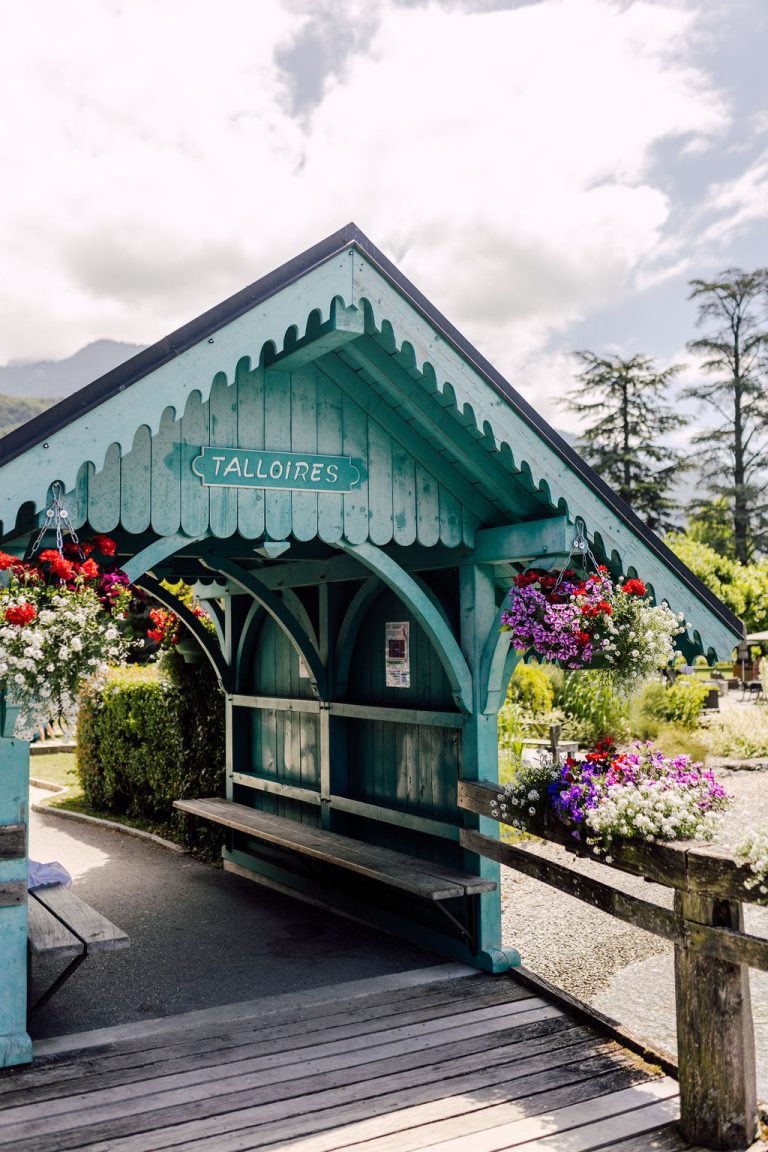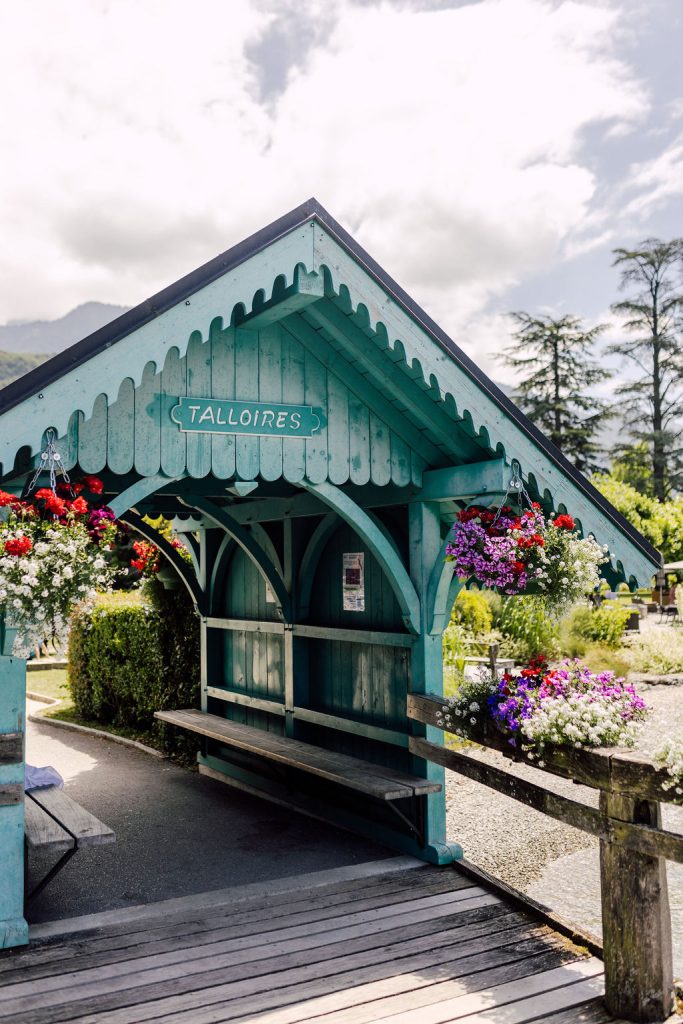 Besides the incredible scenery, the wonderful array of eateries, the culture and the heritage, the village's proximity to the lake means you can spend the afternoon lounging on a picturesque beach or even soaking up the views from a stand up paddle board.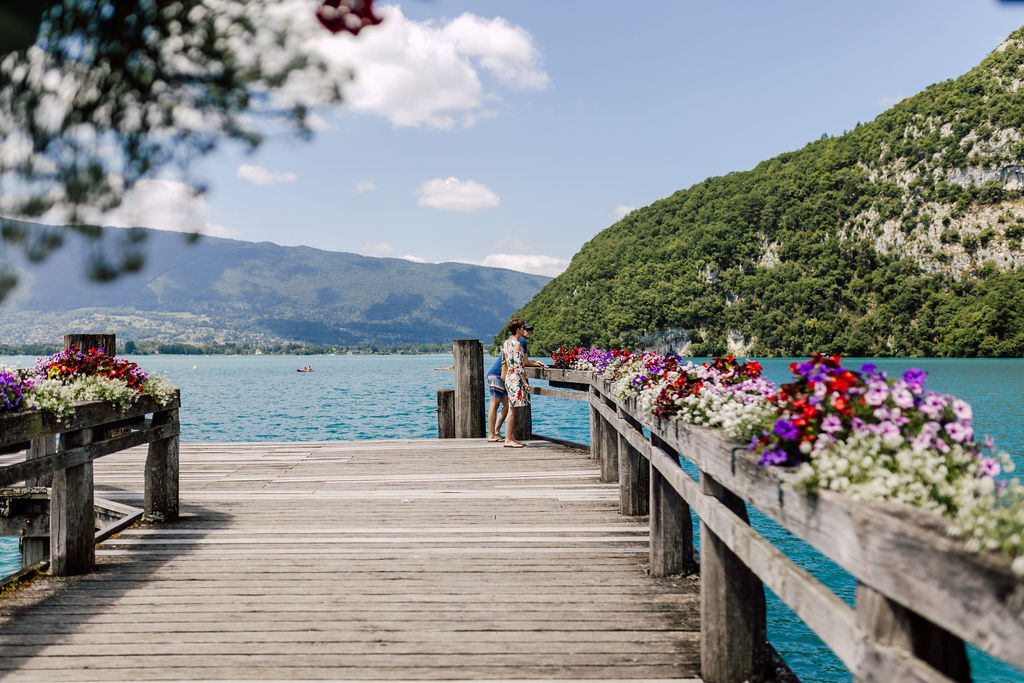 The idyllic village has been adored by writers, artists and other well known figures throughout history and it is understandable why. With all of the activities available combined with the location and the surroundings it really is a must-visit destination.
How to get to Talloires
Talloires is only a 25 minute drive from the larger lakeside town of Annecy. It is also only a 1.5 hour drive from Morzine (where we are located at The Farmhouse Hotel). The journey there and back is a very comfortable distance for a day trip and we advise you to set off from Morzine early so that you can spend the entire day enjoying the shores of Lake Annecy!
When you arrive by car there are 300 parking spaces available for a fee in the centre of Talloires. It is only a small village, so we definitely suggest grabbing a parking space and walking around on foot to truly soak in the beautiful architecture and extensive heritage belonging to the town. 
The Best Things To Do in Talloires
As we've already alluded to, there are loads of things to do in the little village of Talloires. Here is a list of just some activities you can enjoy when visiting:
Tour the Old Town of Talloires on Foot
As in many historical towns, exploring the streets on foot is the best way to immerse yourself in the culture of Talloires.
Talloires has been a settlement for many hundreds of years, passed through by the Romans and built on by Benedictine Monks. As you stroll through the village you can see some of its oldest buildings still standing today. These include the Abbey of Talloires (founded in the 11th century) and the Chateau de Menthon-Saint-Bernard which is still inhabited today.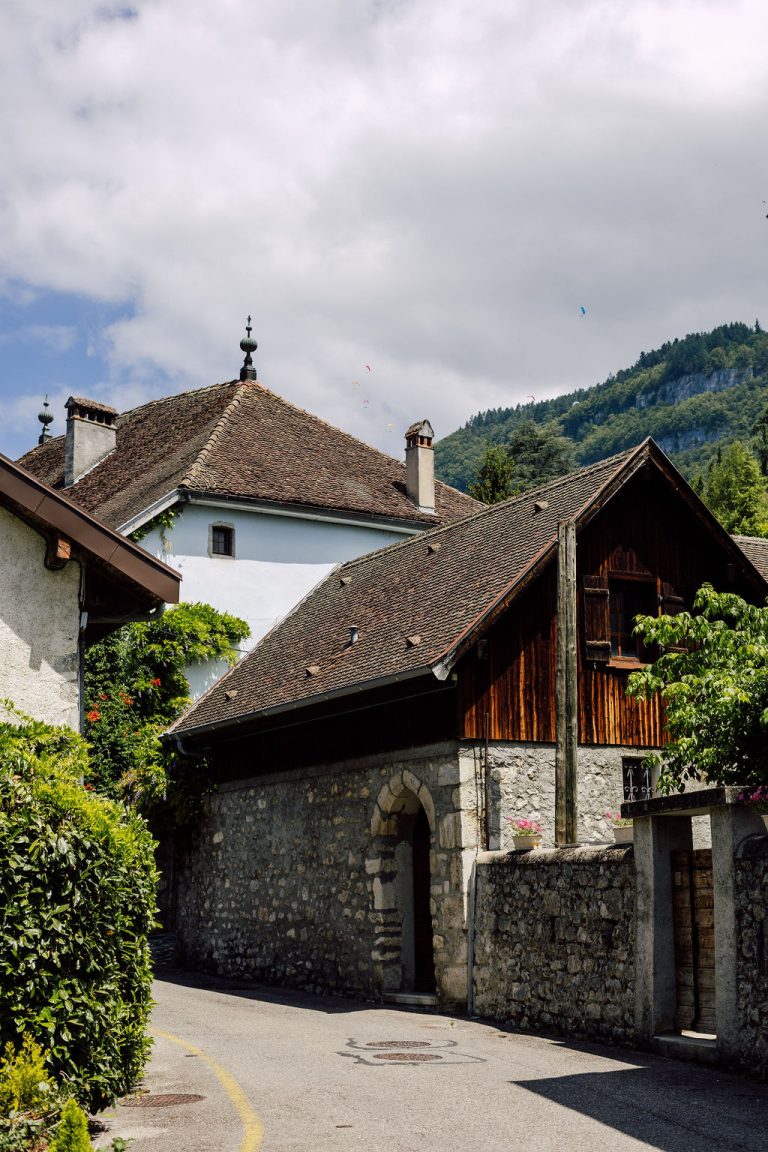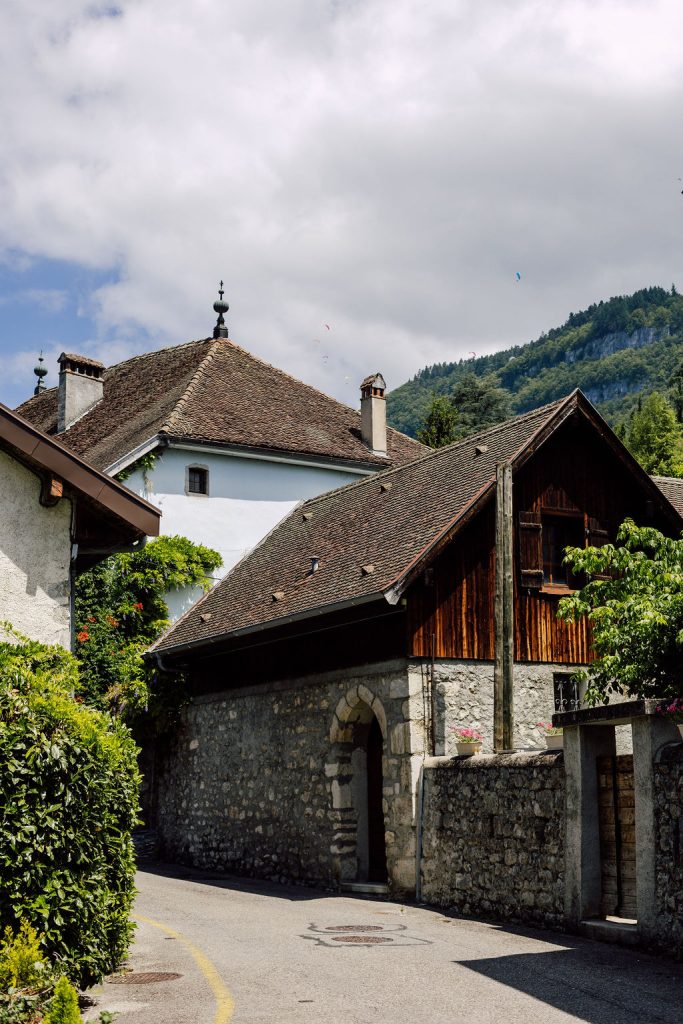 During the summer you can join a walking tour every day in July and August in order to see these sites. Or you can explore at your own pace and in which case you should definitely walk along the promenade whilst you're at it. Either way, you are almost certain to fall in love with the gorgeous stone buildings and charming atmosphere of the French village.
Relax at the Beach and Swim in the Lake
Talloires boasts two gorgeous lakeside beaches, one in the heart of the village and the other 1 km along the shoreline. The first, larger beach is a wonderful place to while away an hour or an afternoon. With a grassy lawn to sit on as you overlook the beautiful blue waters of Lake Annecy you will feel as though you're in paradise. The swimming area is supervised and you are spoiled for choice by diving boards, waterslides, a snack bar and access to kayaks and SUPs.
The second beach, known as Angon's beach, is much quieter, though it is also supervised. Here you can relax in peace and tranquillity whilst still having access to the crystal clear waters, a lovely lakeside restaurant and beach games like volleyball and ping pong.
Dine in the Restaurants or Treat Yourself to Ice Cream
Speaking of being spoiled for choice, the dining options available to you in Talloires are seemingly endless. For a small lakeside village you can eat delicious meals in luxurious hotel restaurants, on bright and airy terraces, at gourmet lakeside bistrots or go for a drink in any number of bars!
Expect a range of cuisines from the most extravagant to the more authentic. You won't struggle to find what you are looking for. Then, after you've eaten (or if you weren't too hungry in the first place) there is always the option of treating yourself to cold, fresh ice cream!
Take Part in Watersports on Lake Annecy
It won't come as a surprise by now that for every activity there is to do on land there is something to do on the water! Given the dazzling scenery, what could be better than renting a boat, a kayak or a paddle board and gliding atop the crystal blue waters of Lake Annecy?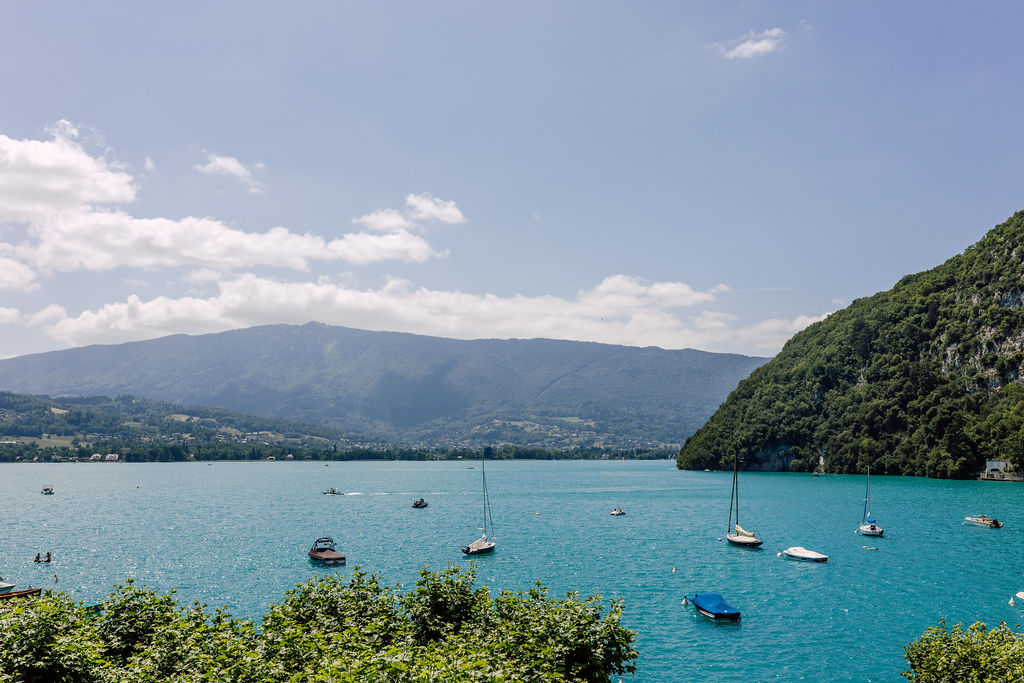 And that's not all, besides paddling on the surface you can also dive below and immerse in the underwater flora and fauna through a scuba experience. If you live for adrenaline then why not try wakeboarding, waterskiing or even canyoning and rafting? Or if you'd like a slower pace, a gentle pedalo ride is also available!
Cycle the Tourist Trail
Cover more ground by renting a regular or electric bike and tour through the village on wheels. Like the walking tours there are also Lake Annecy cycling tours available to join, on which you will see the sites of Talloires whilst moving at a faster pace. You can also venture further outside of Talloires and ride up to a view point or to your new favourite restaurant, all the while taking in the stunning surroundings.
Paraglide from Col de La Forclaz
If you are excited by the idea of sensational views, then why not go even higher and try paragliding? Talloires-Montmin is a hot spot for paragliding due to its stunning location which offers numerous flight paths and fantastic access.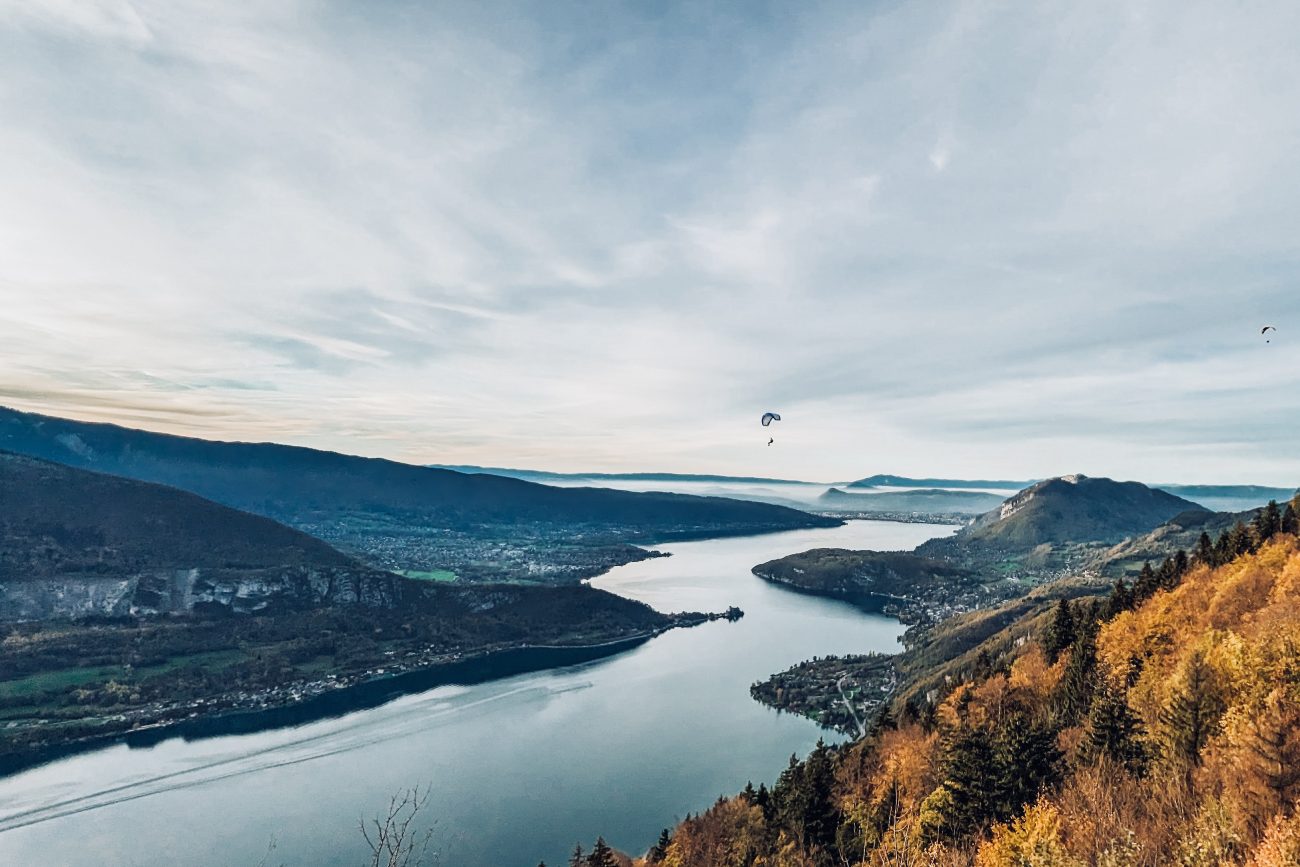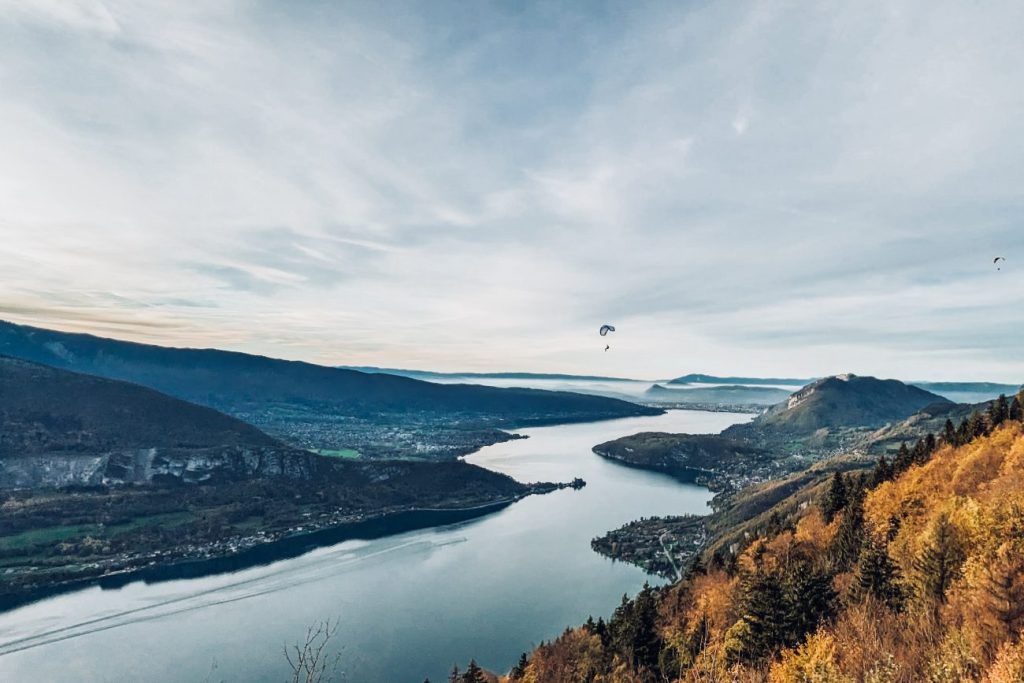 If you want to book in for an activity of a lifetime then certainly look into doing it in Talloires. And even if you don't feel like making the leap yourself, watching the paragliders descend from Col de La Forclaz is always worth a watch too.
If you fancy trying paragliding when you return to us in Morzine, then don't hesitate to check out our article on the Paragliding School of the Portes du Soleil who will give you an equally as excellent flying experience!
Go on a Hike
Finally, amongst many other activities, the last thing we recommend you do is make time for a hike in the surrounding nature. The landscape around Lake Annecy offers some incredible peaks to summit, coves to relax in and waterfalls to discover. All of which you can plan your route to using this map. There are trails for all abilities and those which are suitable for mountain bikes also, so work up an appetite for your lakeside supper and head out into nature.
Head to the Comfort and Luxury of The Farmhouse Hotel
After you've enjoyed your trip to Talloires we would love to have you stay with us at The Farmhouse in Morzine!
We are a perfectly located, boutique hotel that promises the warmest welcome and an exceptional stay. We do our best to make sure all of our guests are comfortable and well-informed, so that their trip reflects the sensational surroundings.