Tandem Paragliding in Morzine – All You Need To Know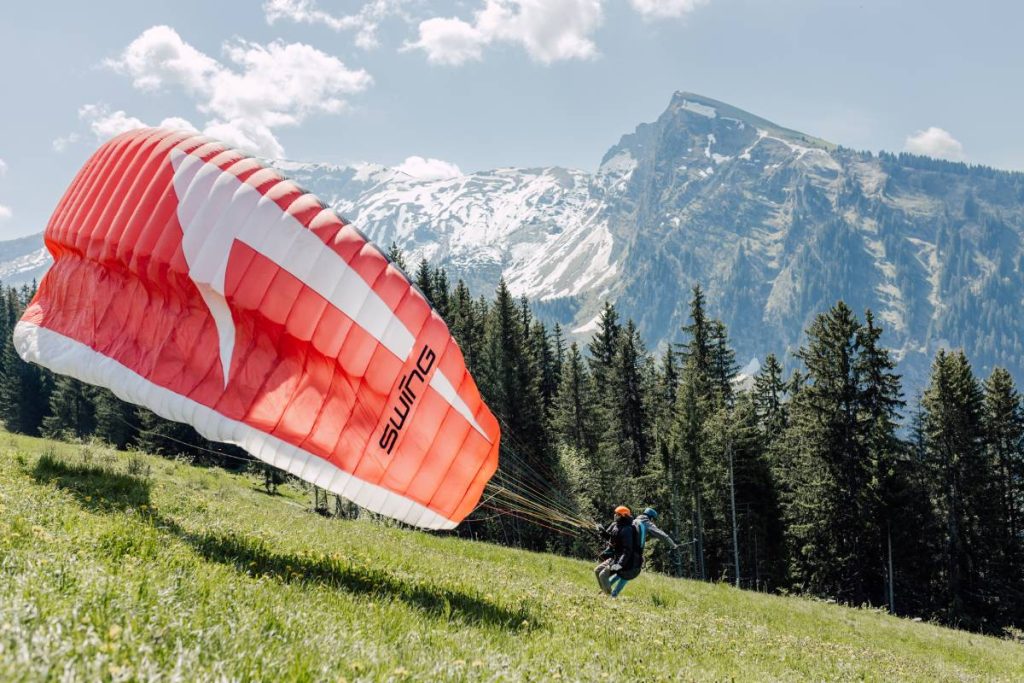 Are you a total adrenaline junkie? Or maybe you want to see the glory of the Alps from a whole new perspective? Whatever the case may be, we cannot recommend paragliding highly enough!
Tandem Paragliding is an adventure sport and form of free-flight that you can experience here in our beautiful mountain town of Morzine. Since it's such an exciting activity, we thought we'd give you a guide to everything you need to know before you try it out.
Here at The Farmhouse we have known the Paragliding School of Portes du Soleil for many years. We strongly encourage all of our guests to join them in the skies for their paragliding adventure.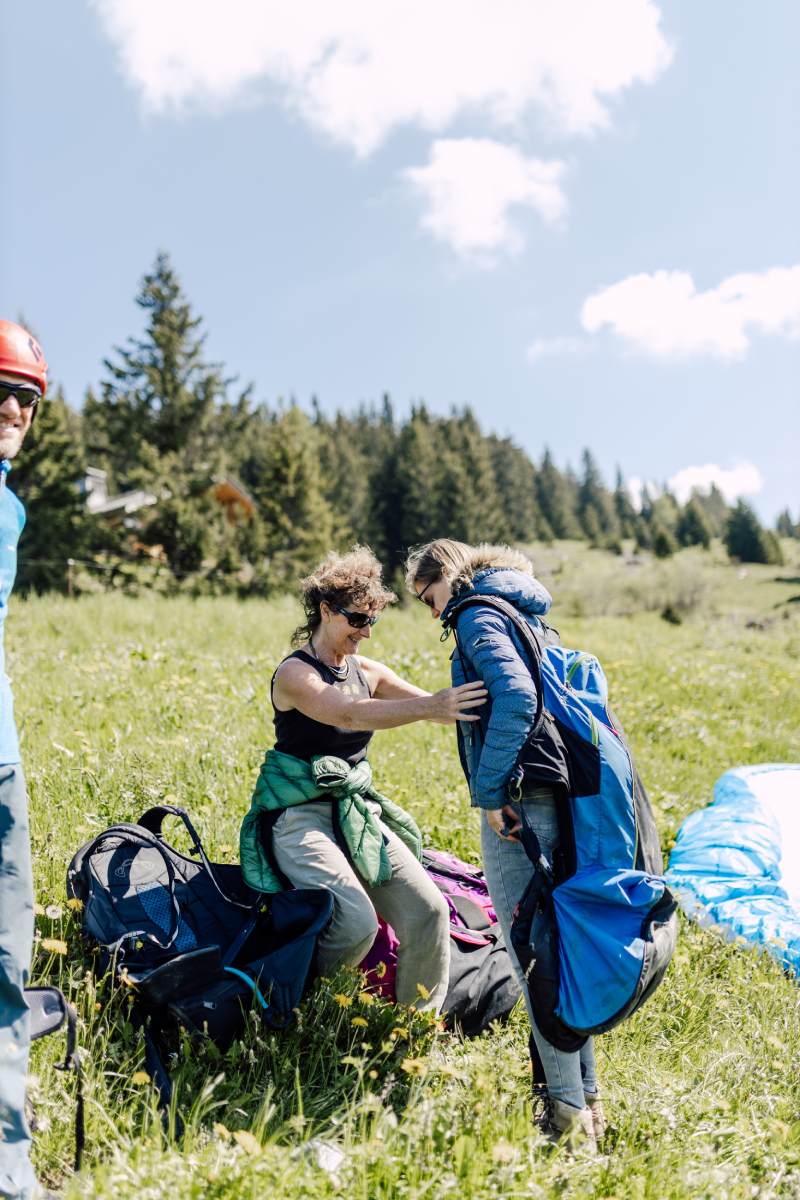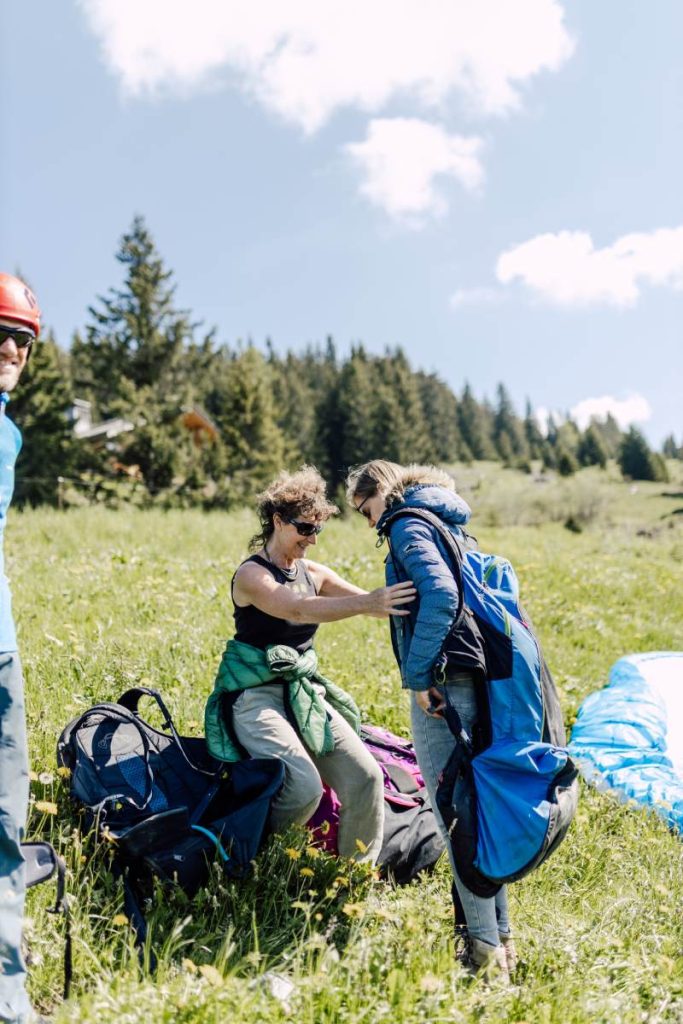 The team are fun, friendly, extremely experienced and their love for the mountains is infectious. For this article, we have spoken to Laurent and Florence at the Paragliding School and they have kindly given us all the information you need to know before you go!
Why Should You Go Paragliding in Morzine?
Firstly, besides the fact that it's a fantastically fun and different thing to do, paragliding in Morzine gives you the opportunity to see some of the world's most stunning scenery from the sky.
You can take part in paragliding all year round, meaning you can see the wonders of each Alpine season from above. In summer you'll have endless views of luscious green mountain pastures and in winter you'll be dazzled by the magic of the snowy slopes.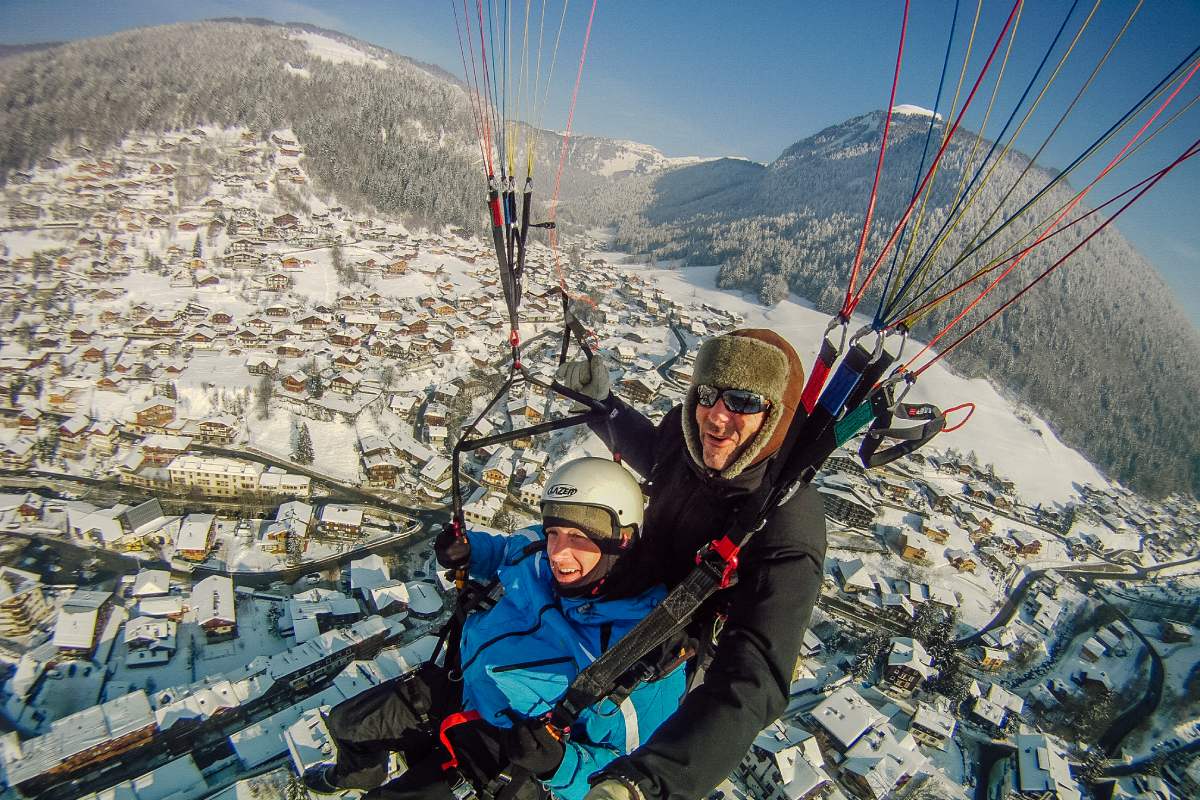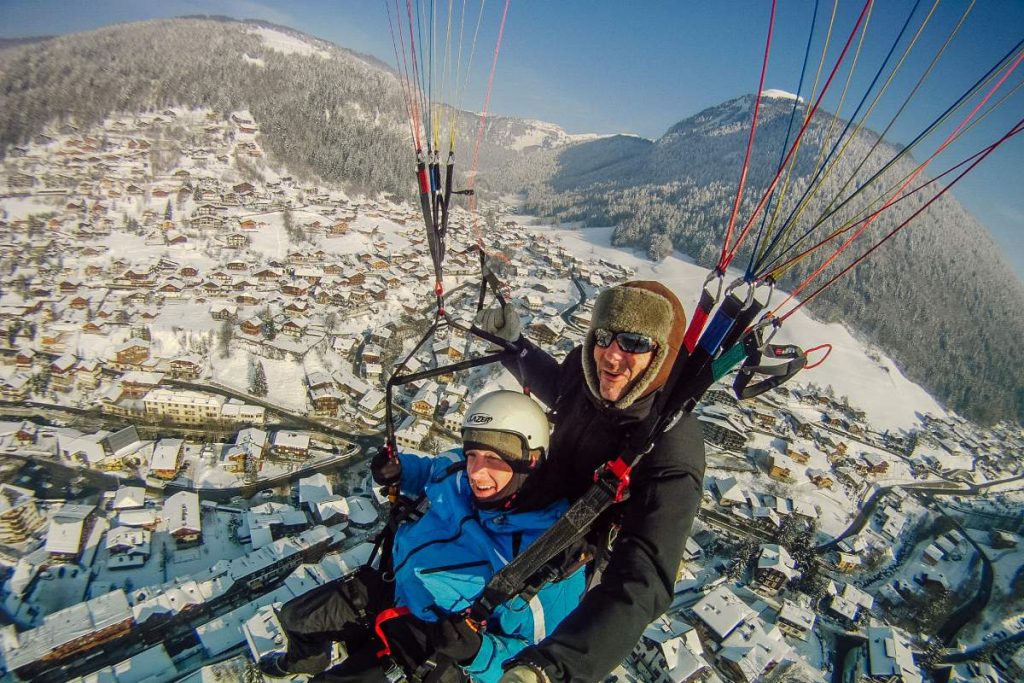 From way up high you'll be able to look down upon some of the Alp's most famous peaks, picture perfect mountain lakes and Alpine villages that make up the magnificent landscape. Whatever the season, paragliding in Morzine offers the perfect combination of exhilarating heights and total tranquillity as you soar in near-silence over the Portes du Soleil.
Can Anyone Go Paragliding?
So long as you can run a few metres on take-off then almost anyone of any age can go tandem paragliding. There are very few restrictions when it comes to taking to the sky, as chairlifts take you up the mountain to the launch spots and no past experience is required – that's what Paragliding School of Portes du Soleil is for!
If you wish to reach new heights of excitement and try flying solo, then this is also possible after completing a training course with the paragliding school.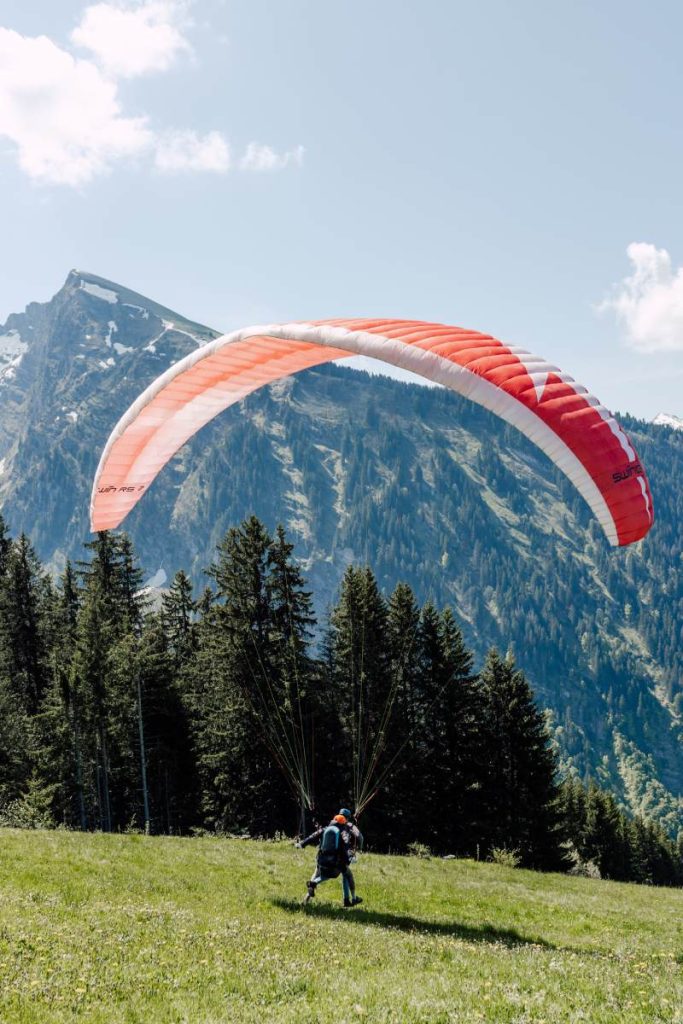 Anyone is welcome to come and try out paragliding, which is what makes it a great activity to add to a family or solo holiday. It could even be a thrilling addition to your mountain retreat or team building trip, so long as everyone's game!
Whether you are young and spritely or more inclined to sitting down, tandem paragliding can be for you!
How Does Tandem Paragliding Work?
Paragliding came about in the 1980s when the parachute was redesigned to enable take off from the ground rather than from freefall. Unlike parachutes, paragliders are fully inflated before you are even in the air. The large "wing" allows you to glide on warm thermals which also creates the lift needed to carry the weight of the pilot and any other passengers – the wing used for tandem flights will be a lot larger than on a solo paraglider.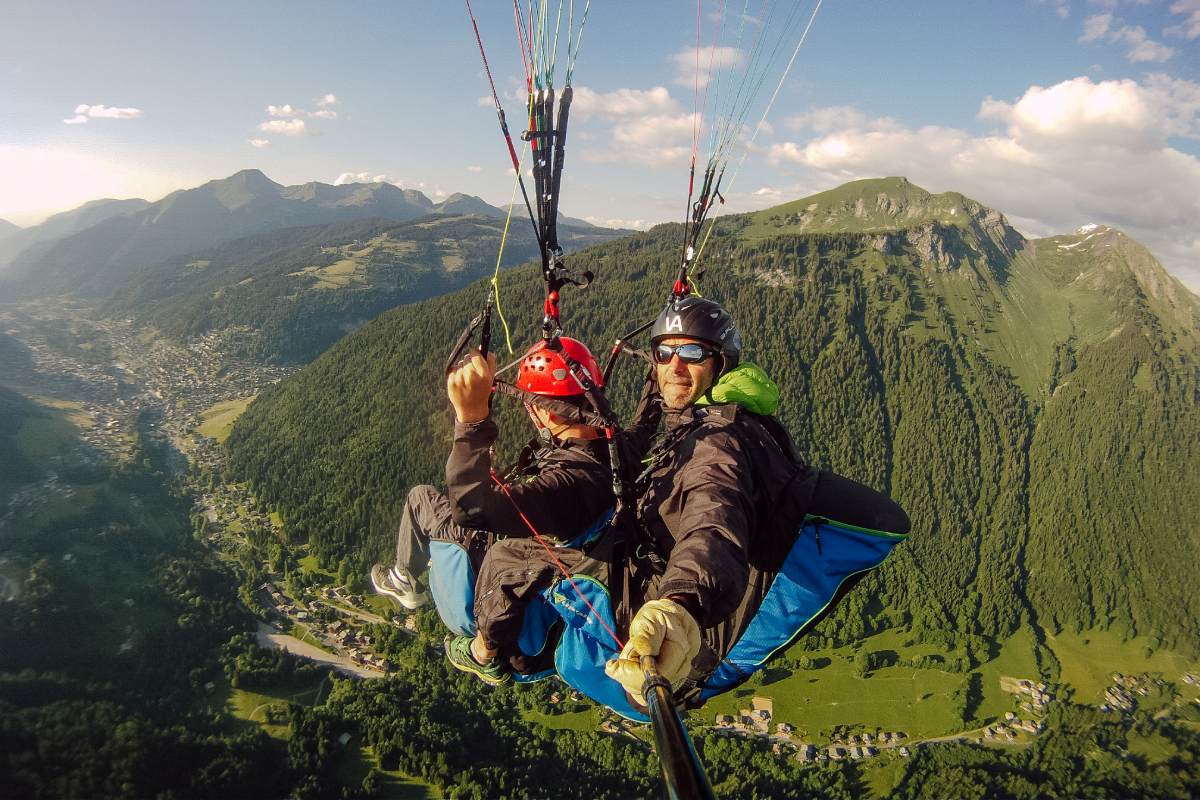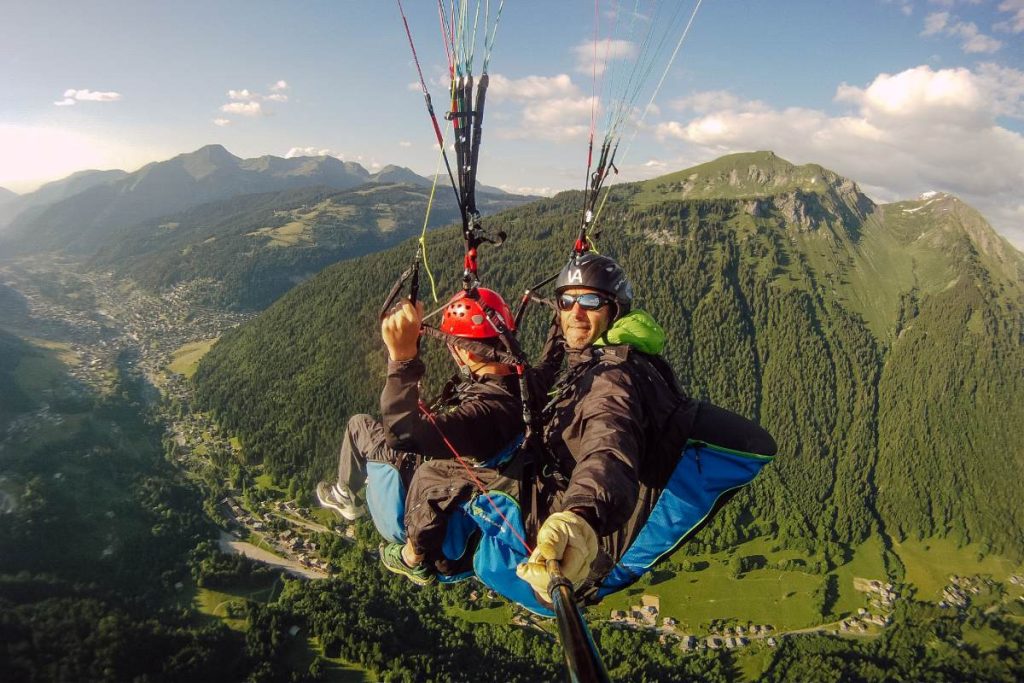 Paragliders operate in the same way as a conventional aircraft minus the engine! The Pilot is in control of the "wing" via super lightweight suspension lines and the weight of the passengers is spread out through straps that attach to the conjoined harnesses they comfortably sit in. The fact that paragliders can be compacted into backpacks makes them easy to transport and quick to set up, another reason why the sport is ever-growing in popularity.
The final beauty of paragliding is the slow rate of descent, as this is what allows you to enjoy the epic panoramas of the landscape below you.
What Can You Expect from a Paragliding Session in Morzine?
Once you've booked your paragliding adventure, here's how you can expect your day to go:
Pick Up Point. You will be collected from the centre of Morzine by the Paragliding School's shuttle bus and driven to your flight's take off point – all transport is included in the price.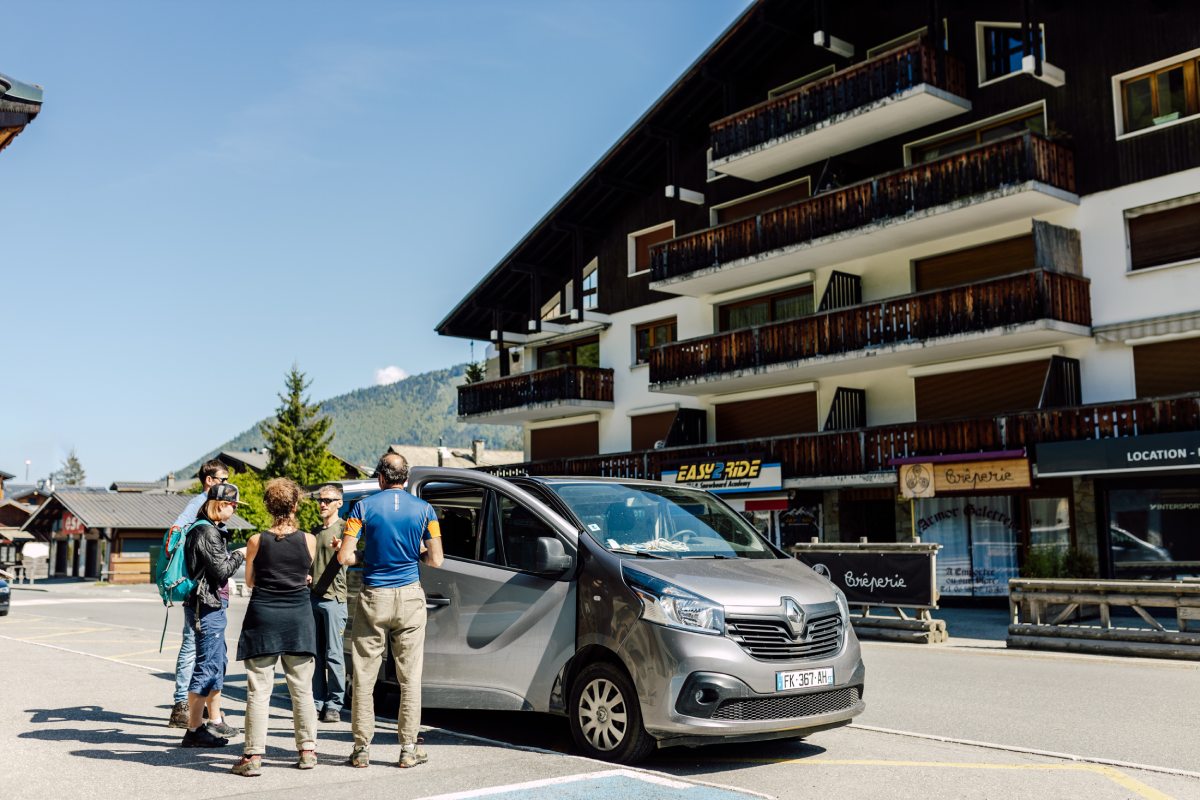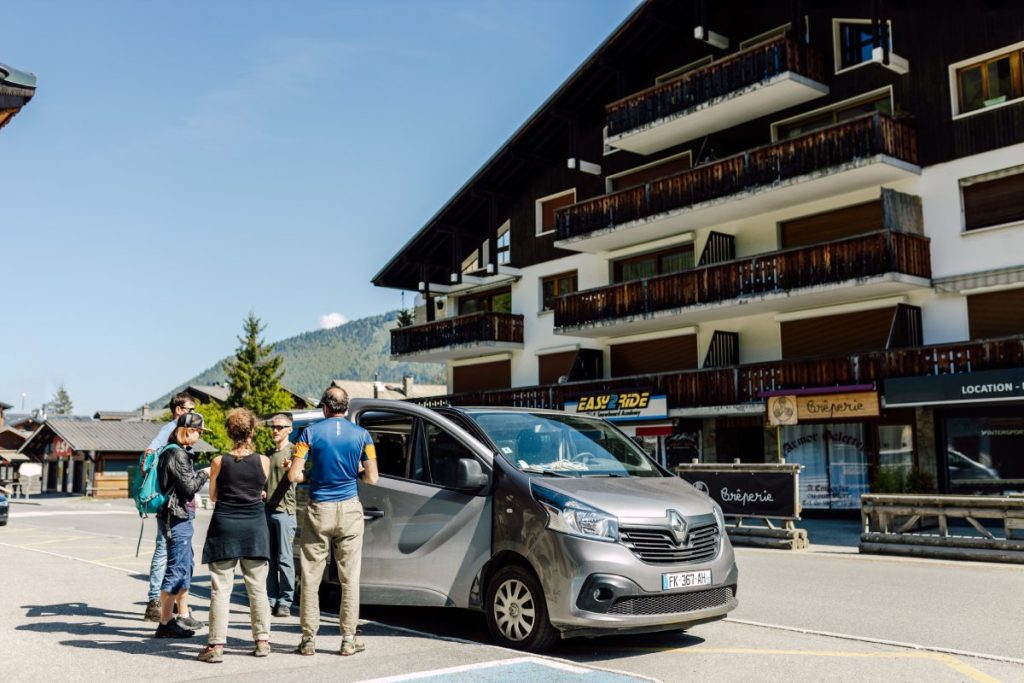 Take Off Point. You will take off from the Super Morzine open field, 1600 metres above sea level halfway along the road to Avoriaz. You will be strapped in, debriefed and then all you have to do is make the run of about 10 metres before you're up, up and away.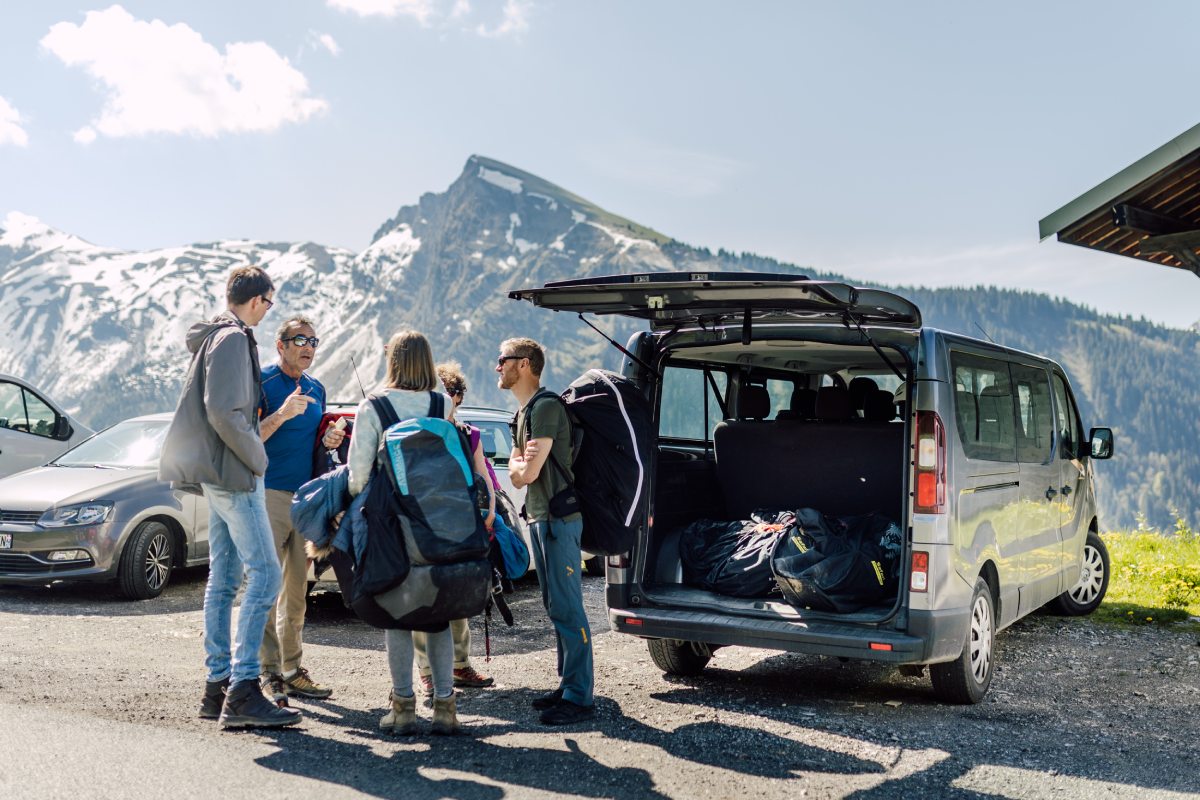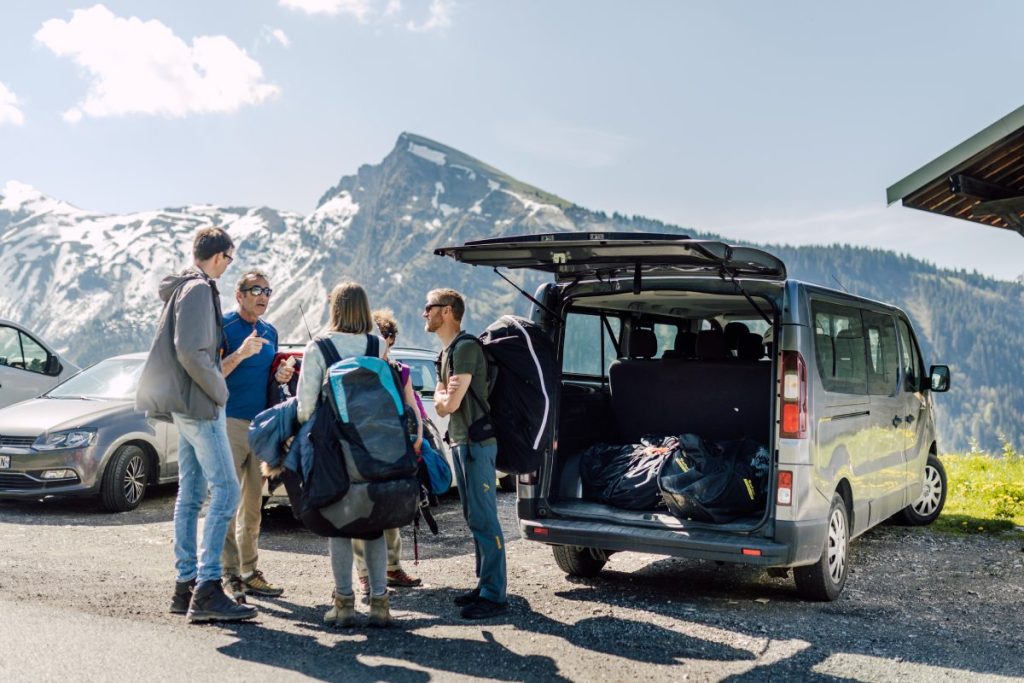 The Flight Route. Your flight will last between 10 and 30 minutes, depending on the air conditions and the paragliding package you have chosen. Whilst you're soaring above the Alps you will get one of the best views of your lifetime and the landmarks you will be able to spot include: Avoriaz cliffs, Ressachaux and Nyon peaks, Morzine village and the Mont Blanc!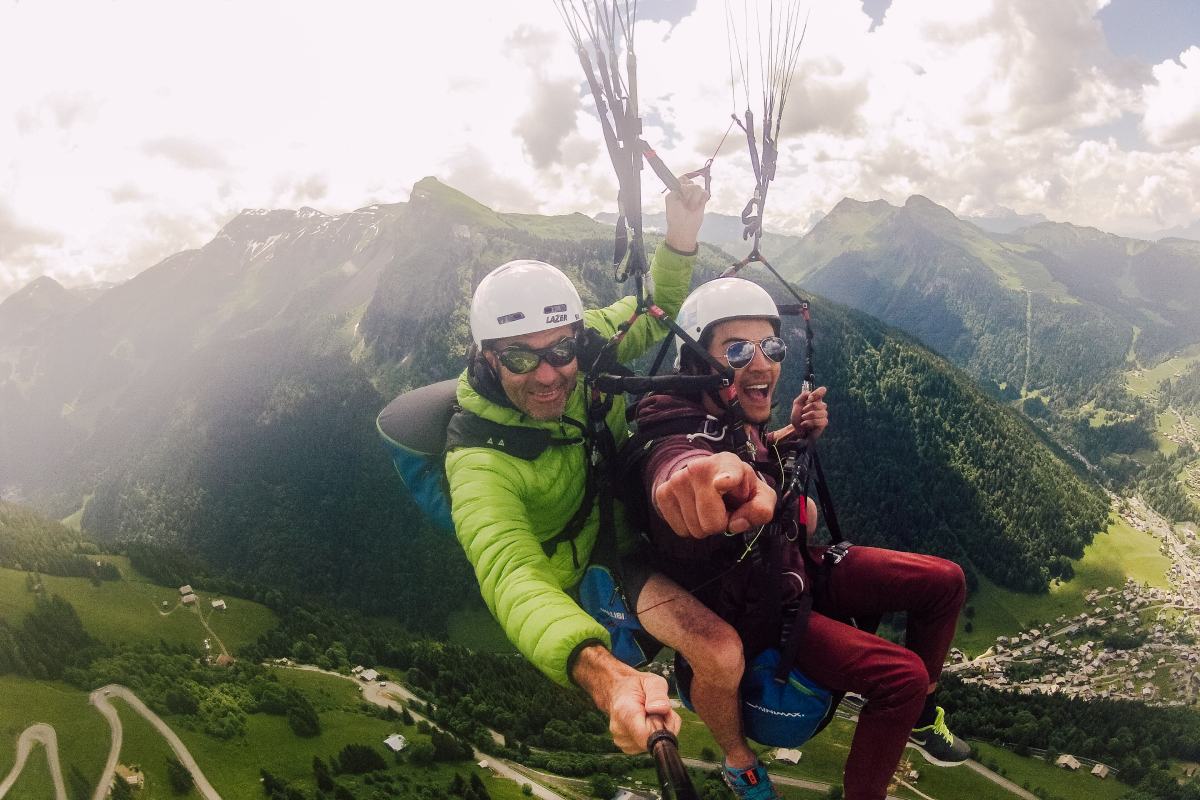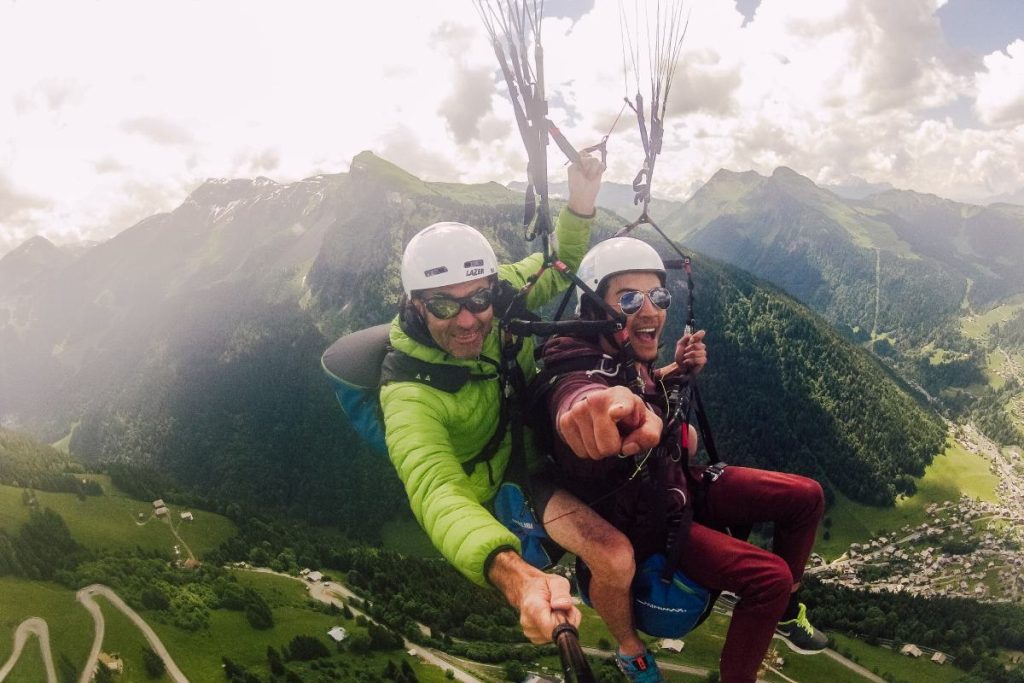 Landing Point. At the end of your journey you will land in an open field, conveniently next to your original pickup point.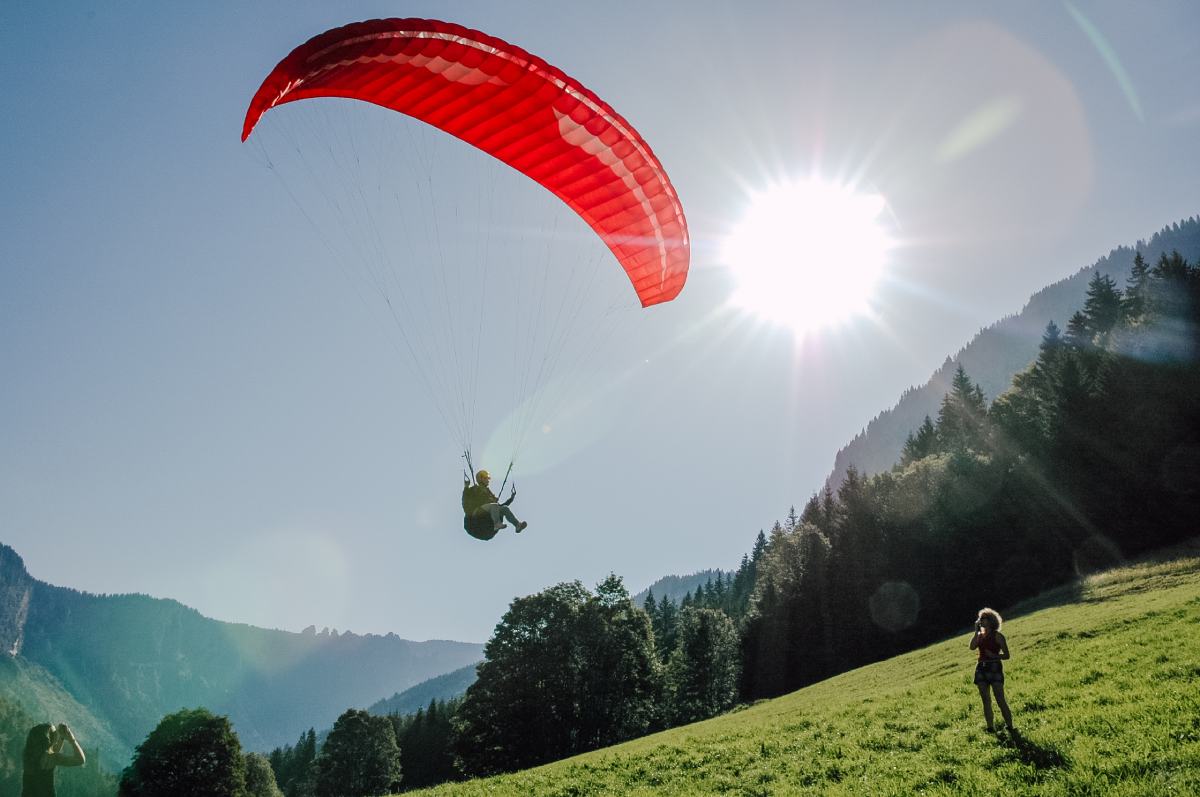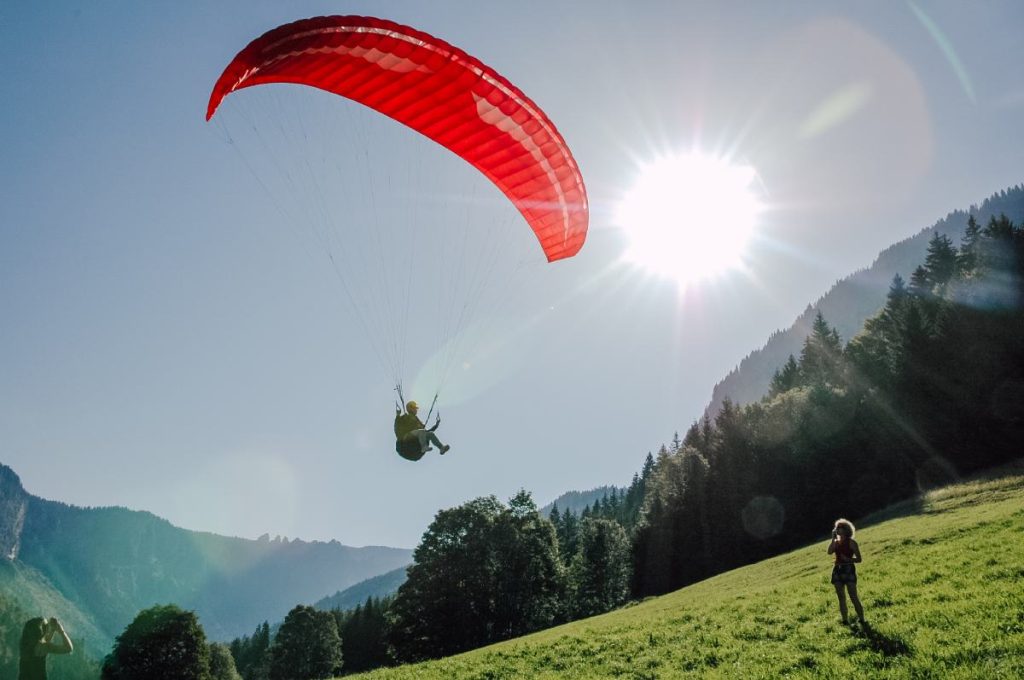 Duration. The total duration of your paragliding experience will be roughly an hour. This depends on the thermals and package you choose!

Paragliding Packages and Prices
The Paragliding School offers lots of different packages at different price points, depending on age, what you are looking for and how long you want to spend in the sky.
Packages include the Classic flight, the Classic flight for Children, the Sensation, the Educational Flight, the Prestige Flight and more! The cost of these packages start at €80.
Frequently Asked Questions about Paragliding in Morzine
Understandably, you might have a few extra questions about paragliding, which sound something like this. So we asked our friends at the Paragliding School of Portes du Soleil to help us answer.
Q. What is the minimum age requirement for paragliding in Morzine?
A. There is no set minimum age for paragliding in Morzine but we would say 3 years old is too young! We recommend age 6-7 is a great time to start, so long as everyone involved wants to do it!
Q. Do I need prior experience to paraglide in Morzine?
A. No! It doesn't matter if you don't have any experience at all, that's what your instructor is there for. All you need to do is run for a couple of steps as you are taking off and then you're away. Also, if you haven't been paragliding before, you don't have to worry about vertigo. It sounds crazy but since your feet aren't touching the ground you don't get that dizzy fear of heights!
Q. What is the best time of year to go paragliding in Morzine?
A. We recommend going paragliding in the peak seasons (summer and winter) for the best experience. You might find there are less places open in the interseasons (spring and autumn) but it is always worth contacting just in case we have off-peak availability!
Q. Do you ever feel sick during the flight?
A. It really depends! There are different factors that might make a person feel sick whilst paragliding and those are: the length of time flying, the weather/air conditions and the person! Some may start to feel a bit sick the longer they have been flying for but some people will be totally fine.
Q. Do you provide filming services during the flight?
A. Yes absolutely. For a small extra charge we can provide you with a GoPro/Action camera during your flight. Once back on the ground we will give you an SD card with all of your videos and clips on, so you can treasure the memories forever!
Q. I would like to be able to fly alone, how can I learn?
A. Firstly, that's awesome. We can definitely help you with that! At the Paragliding School of Portes du Soleil we offer a course that allows you to learn to fly by yourself. You can even become a paragliding teacher if that is your dream!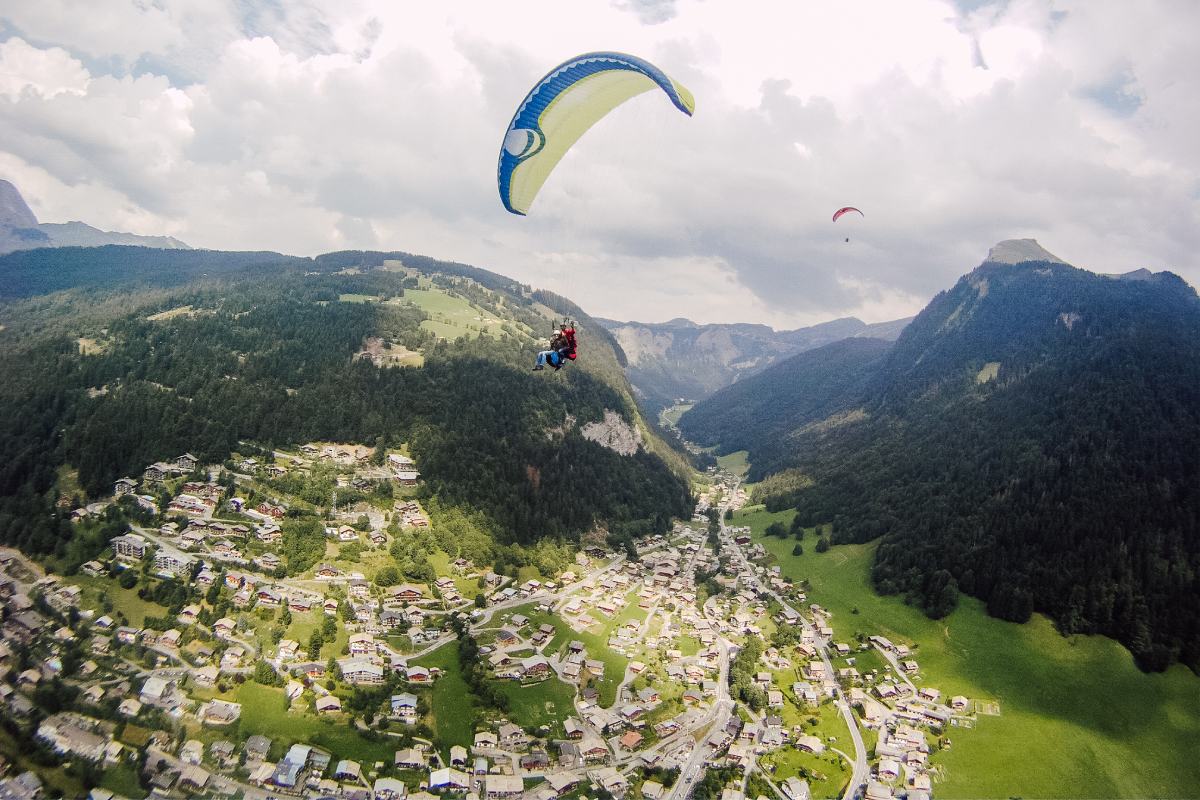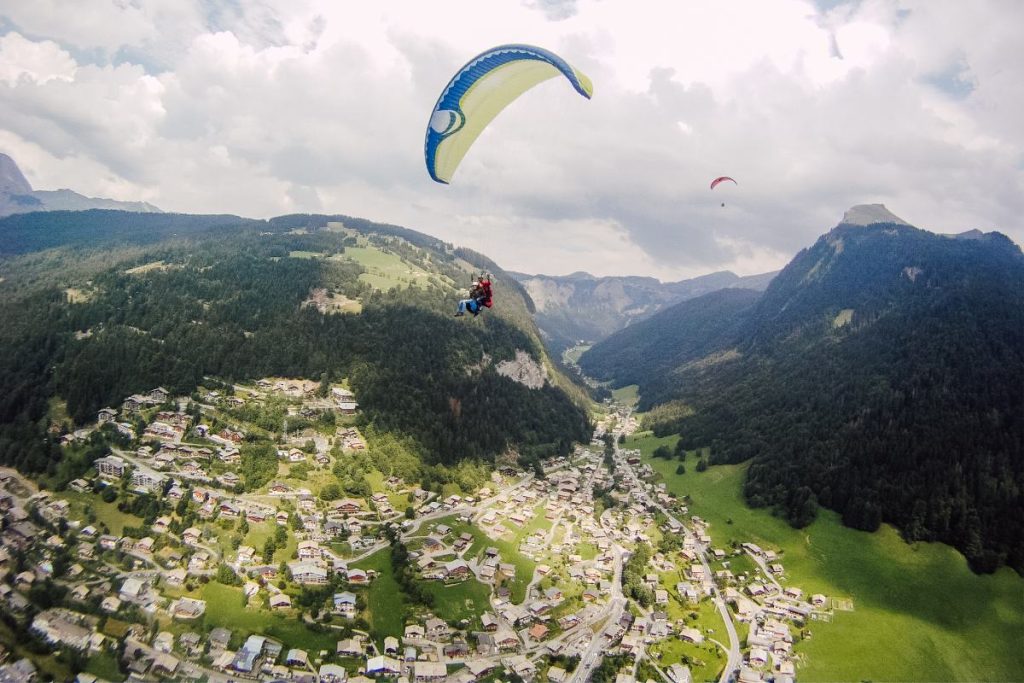 How to Book Your Tandem Paragliding Experience in Morzine
If you've been tempted to take to the skies and try out Tandem Paragliding then please don't hesitate to contact Laurent and Florence at the paragliding school of Portes du Soleil.

And if paragliding in the Alps is now down on your bucket list and you're looking for somewhere charming and cosey to stay, then please do get in touch with us at The Farmhouse. We'd love to help make your trip to Morzine unforgettable!