Beginners Guide – Ski Touring and Split Boarding in the Morzine/Avoriaz Region
James | December 7th, 2020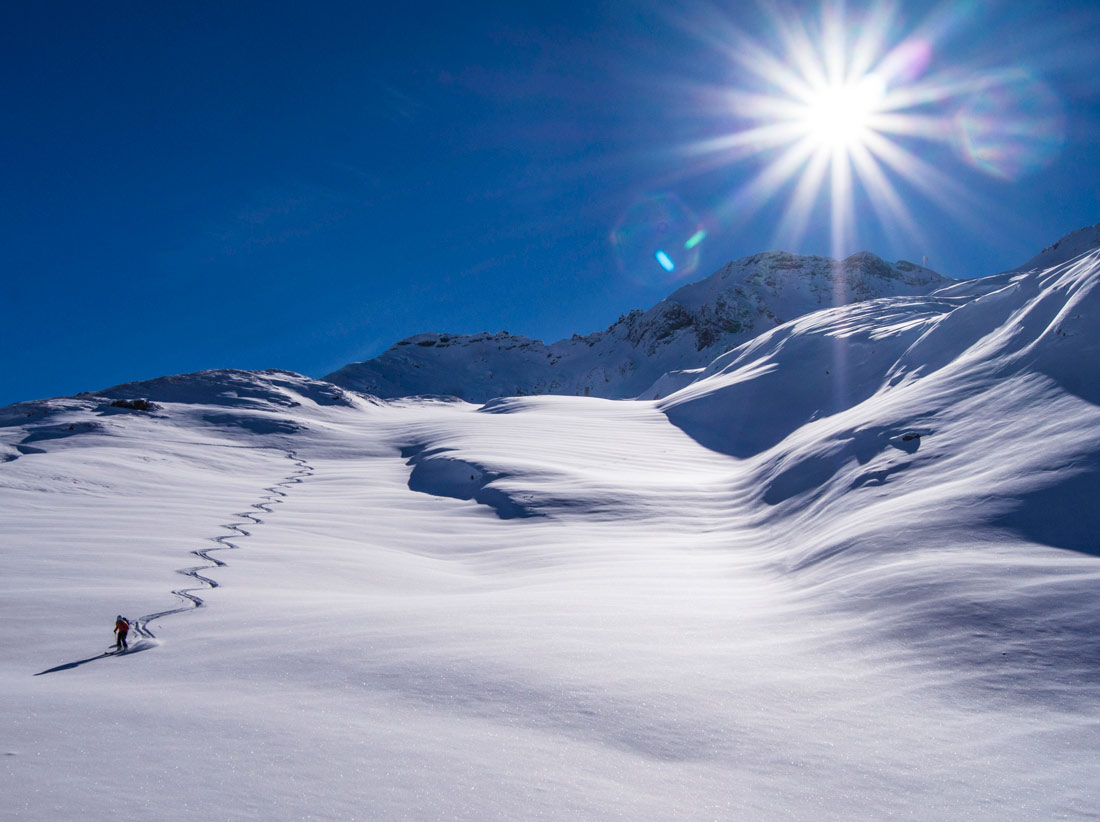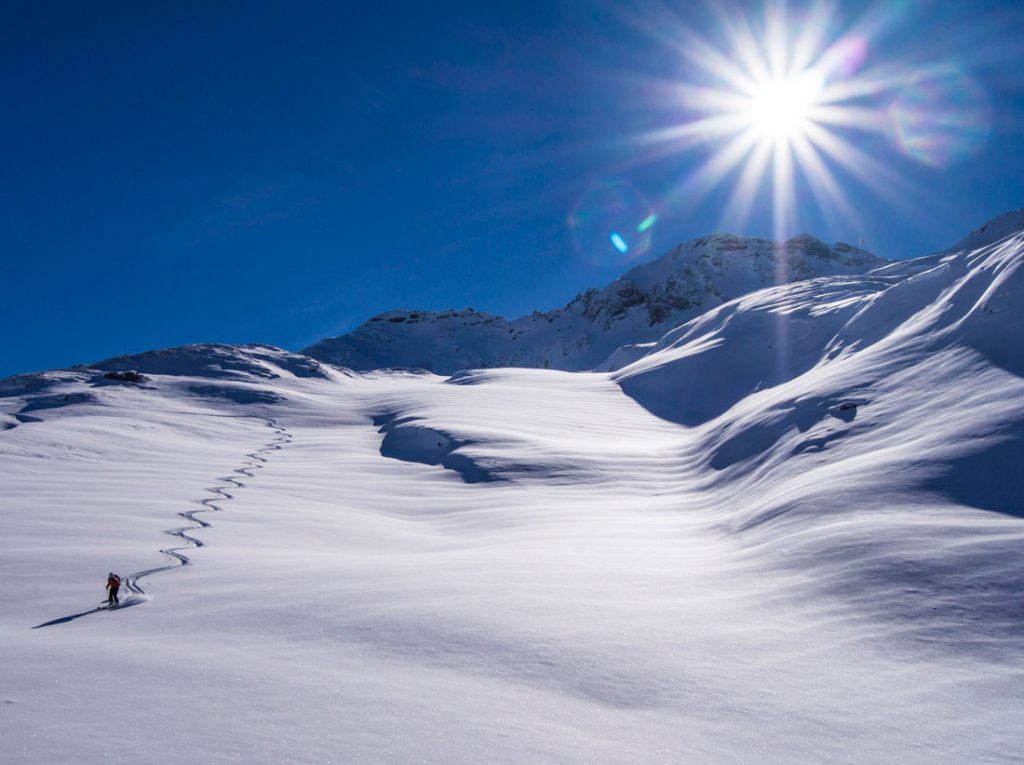 By George Treble – Instructor and Guide with Avoriaz Alpine Ski School.
You may well have heard about how vast, varied and fantastic the skiing is in Les Portes du Soleil – 650km of marked pistes and over 200 lifts make this ski area one of the largest in the world. But that is just the resorts which cover only a small percentage of this enormous paradise. Step into the backcountry, away from the crowds and into the untouched landscapes and you have a whole new playground to enjoy. Expanding your horizons, literally.
Ski-touring and splitboarding are amazing sports to get into at any time, but with some uncertainty over the opening dates of our lift networks due to the pandemic, never has there been a better time to get involved as the new season snow continues to fall.
What is ski touring & Split boarding?
Ski touring & split boarding is the process of 'earning your turns' – hiking up in order to ski & snowboard back down instead of using lifts. 'Skins' can be stuck to the bottom of your skis/boards which have fibrous hairs all pointing backwards, allowing it to slide in only one direction. It allows the ski to slide forwards as you take a step, then grip the snow as you stand on it. This allows you to walk up slopes with relative ease. You don't need ski resorts or lifts for this activity – just a slope with snow on it. And here lies one of the many benefits.
Why is it great?
Touring allows you to enter the backcountry – to escape crowds and noises and experience the landscapes and nature in a far more untouched environment. A greater sense of exploration and adventure makes for more memorable outings and skiing down after hiking up is extremely rewarding and offers a huge sense of achievement. It's fantastic fitness and of course, hiking to earn your turns drastically improves your chances of achieving the holy grail of snow sports – making first tracks in fresh powder.
Who is it for?
Many people laugh at the idea of hiking up in order to slide back down;
"Don't be ridiculous, I'd rather use a lift."
"That must be only for the pro skier adrenaline junkies"
Etc.
I beg to differ. Ski touring isn't reserved for experts only. If you can comfortably turn and stop on your skis and you like the idea of walking through winter wonderland forests and untouched alpine environments then touring is for you. I've had clients who simply wish to escape the resort for a few hours, have a peaceful walk and a gentle blue run back down and they have absolutely loved it. That said, for those wishing to challenge themselves in steeper terrain – the sky is the limit and touring equipment offers you a whole new level of freedom.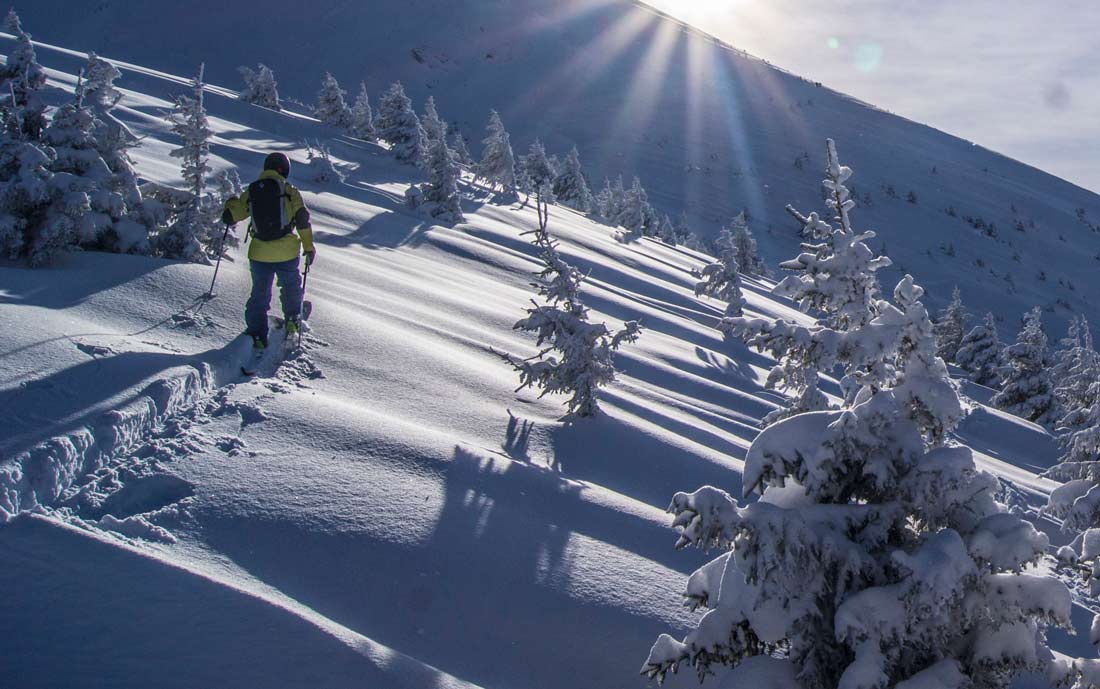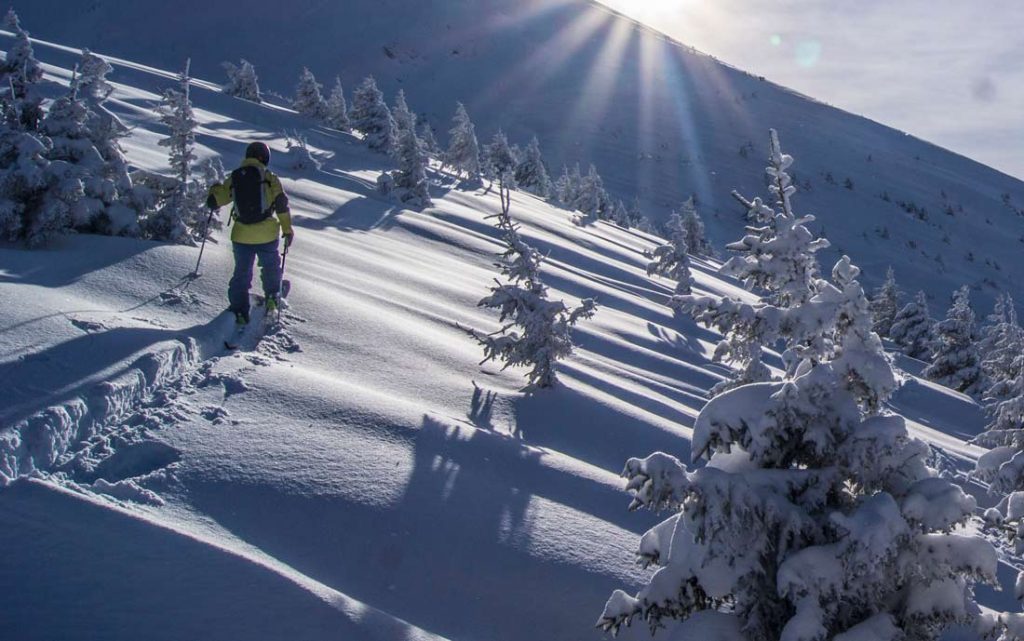 How do I get involved?
Whilst I do wish to dispel the 'expert-only' myth surrounding touring, an important caveat must be acknowledged; As soon as you are off-piste you are in an uncontrolled mountain environment, which does come with a new set of hazards. First of all, you should attend a mountain safety/avalanche awareness class to get started.
Equipment wise, you'll need specific bindings which allow you to switch between ski mode and walk mode, with skins to stick to the bottom of your skis/snowboard. Skiers can also get touring boots which have extra ankle flex in their walk mode setting, which makes the process easier and more comfortable. A backpack with water, a transceiver, shovel and probe are also essential. Most rental shops – e.g. Doorstep skis, All Mountain rental and Intersport – have touring packages which can be hired for short periods of time.
At Avoriaz Alpine Ski School, we will be offering introduction to ski touring and split boarding courses this winter, starting in December (as soon as Covid restrictions allow). This will include mountain safety training, an introduction to the equipment and techniques and guided tours to get you going. Follow us on Facebook & Instagram for updates when we have dates and times set for these courses or send us an email on info@avoriazalpineskischool.com to let us know you are interested.
Ski touring and splitboarding are by far my favourite type of snow sport and my best memories are from this activity. I can't recommend it highly enough. Not only is this an option this December before the lifts are open, but during any trip or holiday out to Morzine Avoriaz.