Family fun in the Mountains: 5-day Morzine itinerary
It may come as a surprise that summer in the Alps is usually warm and sunny, with temperatures in the high 20s. At this time of year, the Portes du Soleil mountains transform into a massive natural playground with endless opportunities for fun and adventure.
If you are looking for a memorable family holiday that differs from your usual beach holiday, take a look at our 5-day family fun itinerary. It is packed full of awesome experiences, along with opportunities to soak up the scenery and relax as a family.
Day 1
Start your day by taking one of the area's most picturesque drives to the charming village of Les Linderets (15 minutes from Morzine). As well as being an idyllic village with narrow streets and pretty chalets, this little hamlet surrounded by mountains is also known as 'the goat village', and for good reason.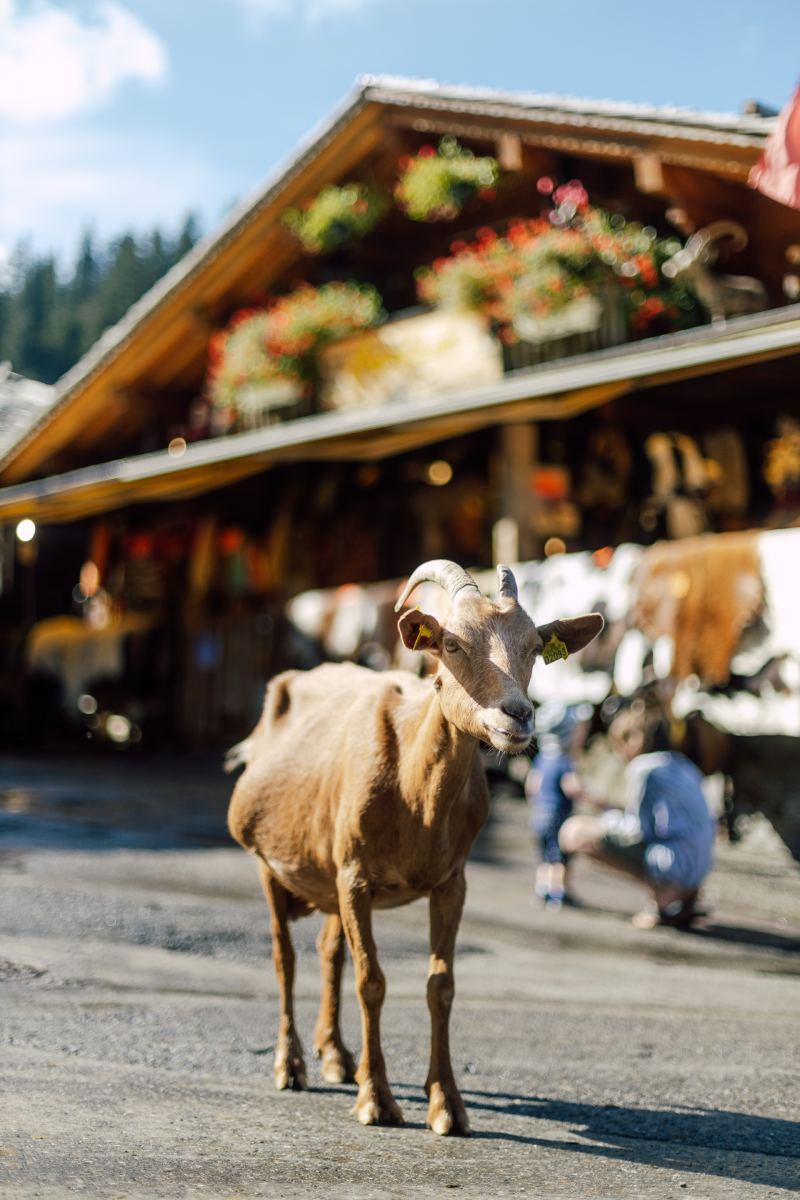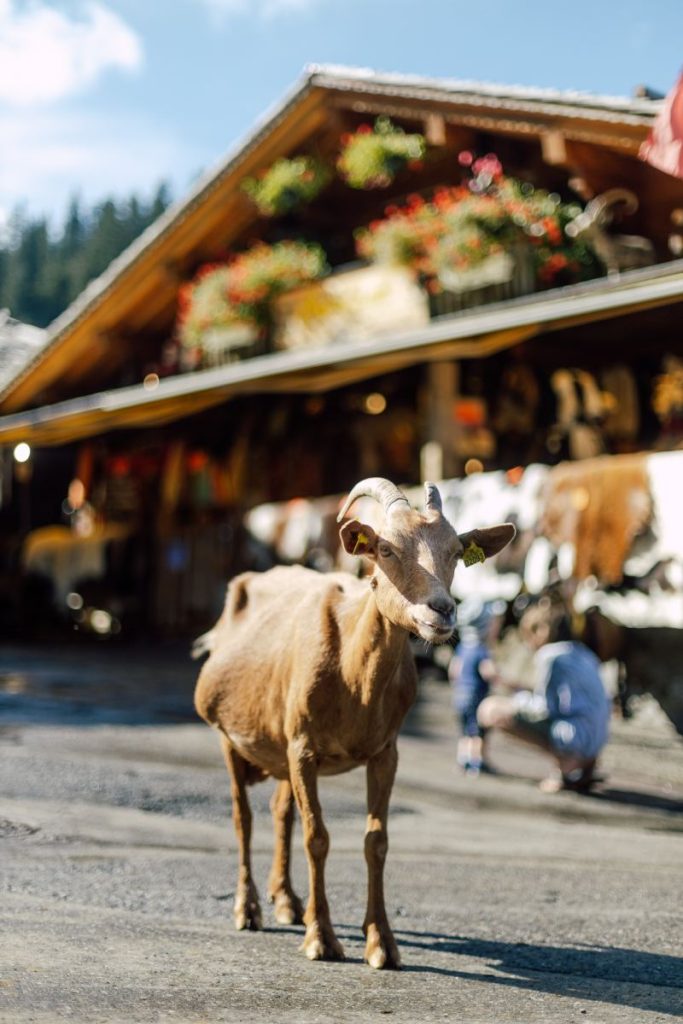 The village is full of goats of all colours, shapes and sizes. They are also not shy and will allow children to get close and even pet them if they wish. The goats wander around freely, seemingly enjoying the attention of tourists as much as the fresh grass in the nearby pastures.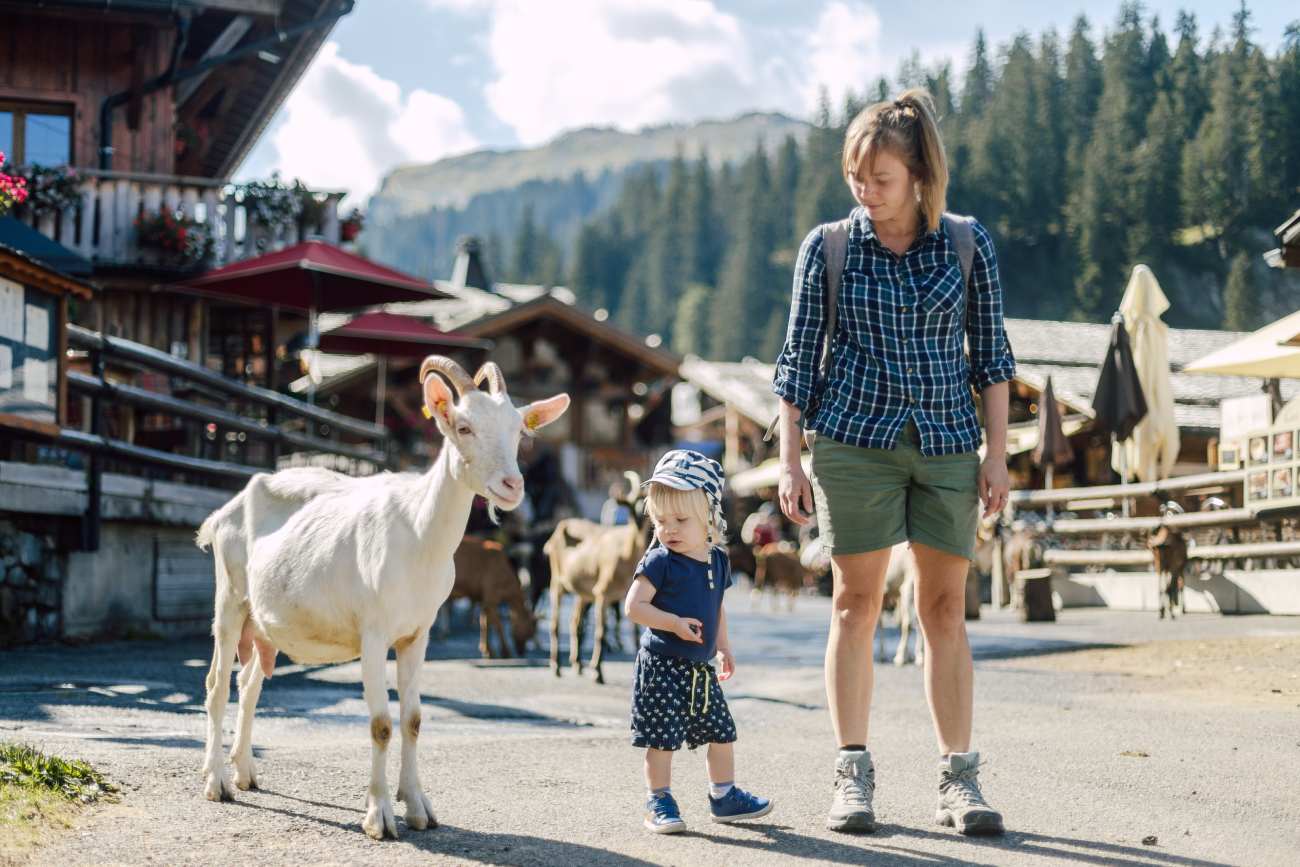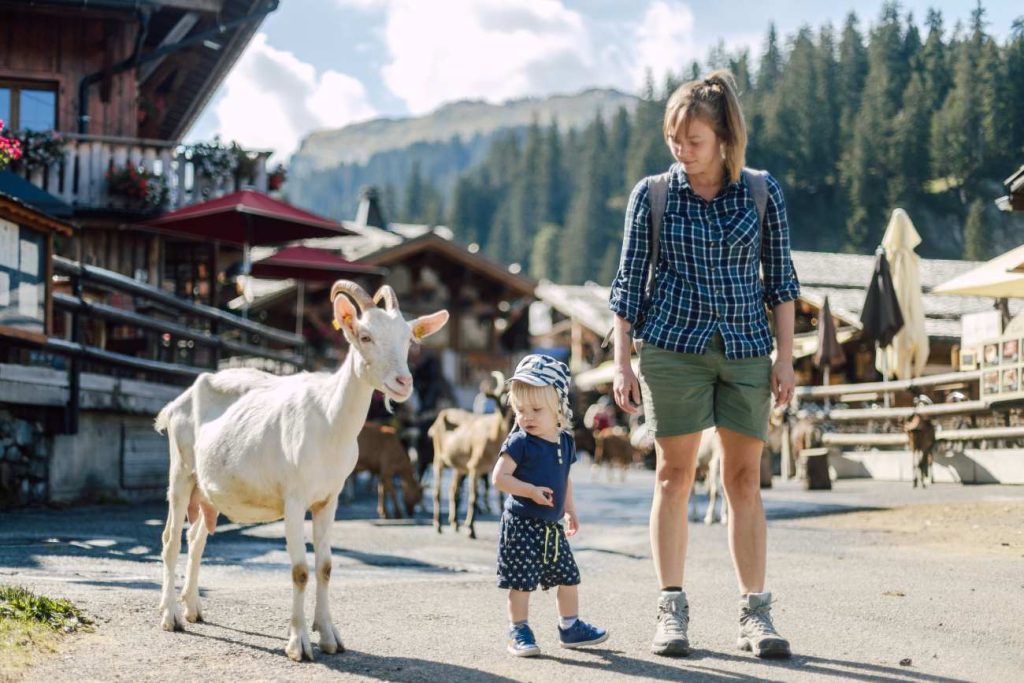 Take some time to explore the village and take in the views before picking a restaurant to enjoy some of the local specialities. However, we advise you not to have a heavy lunch – a Croque-monsieur would be perfect – as the afternoon activity involves dizzying heights and a take off you will never forget!
After lunch take a short walk from the goat village to Les Linderets bowl (where several ski lifts meet, a 5  minute walk beyond the goat village). Take the Chaux Fleurie chairlift, which will be the lift on your left-hand side, taking passengers up the mountain towards Switzerland. At the top of the Chaux Fleurie you willl find Fantasticable – one of The Portes du Soleil's must-do family activities.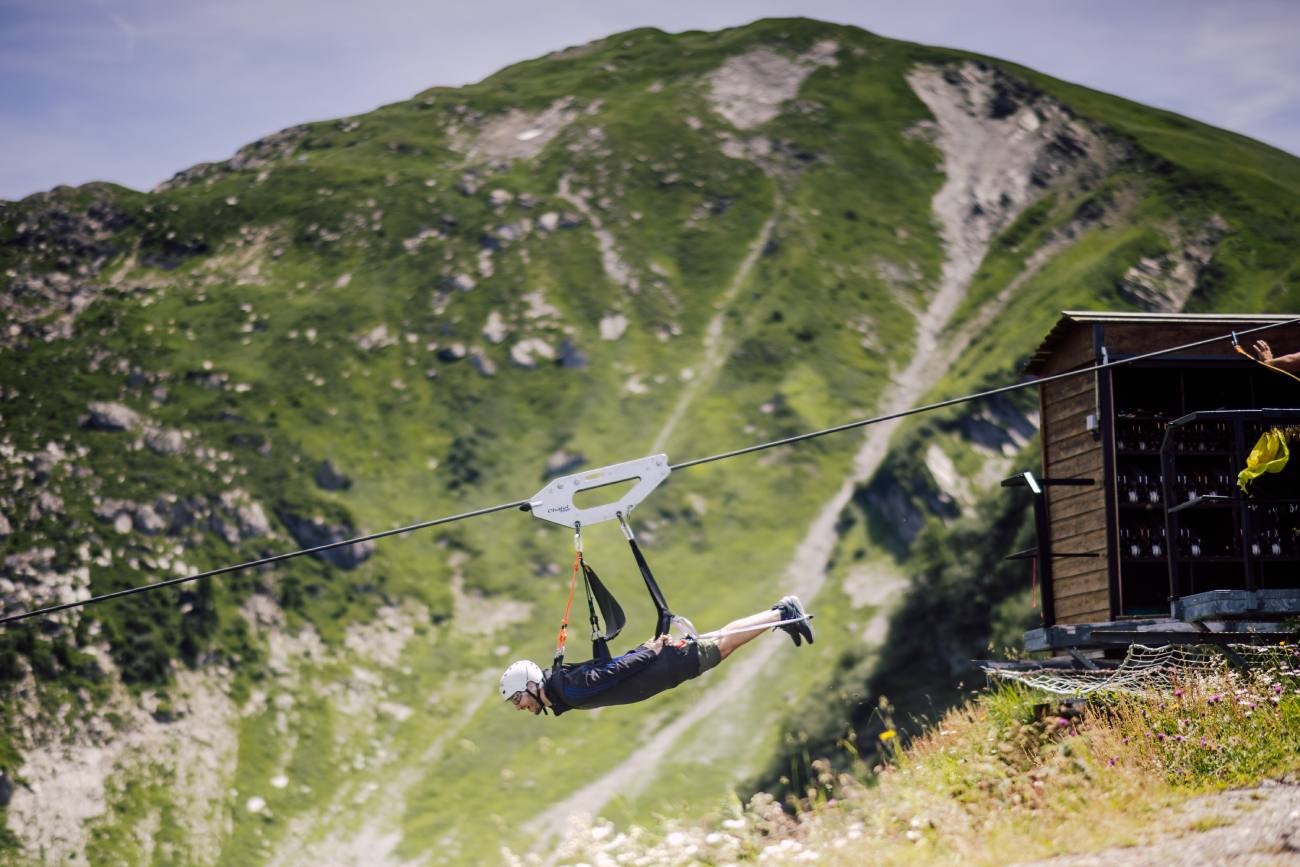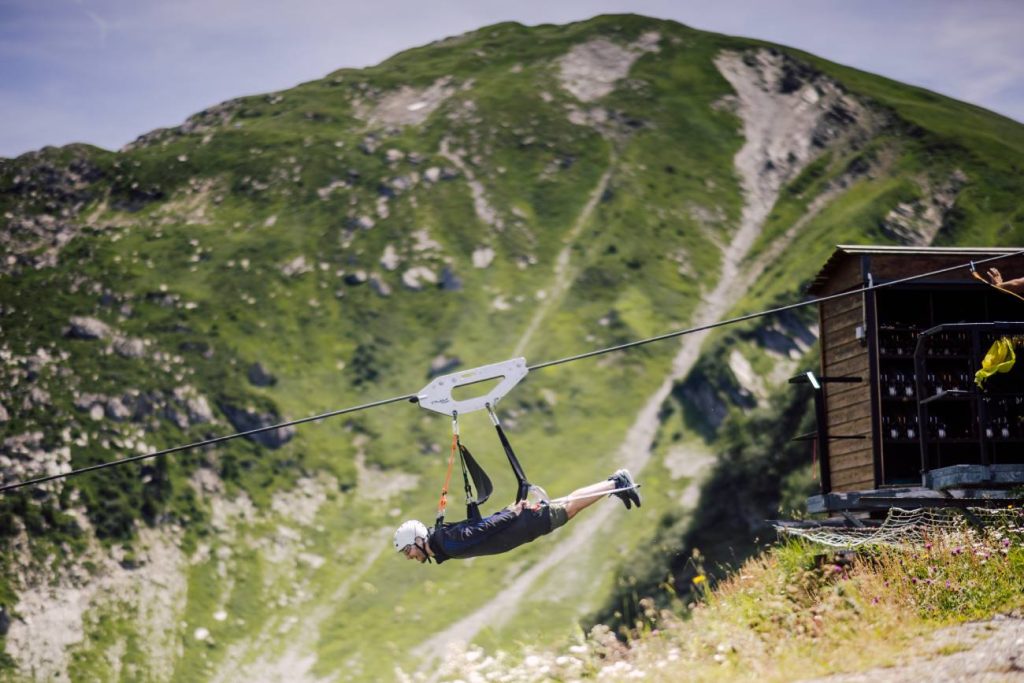 It consists of 2 huge zip lines that go from one side of the valley to the other at a height of 240m above the ground. They cover three kilometres in two stages and reach speeds of up to 100km/h! For this exhilarating ride, you will be strapped into a harness to fly face first across the valley. If you can, keep your eyes open, as the views are incredible!
There is not an age restriction but you need to weigh between 35 and 120 kilos to be able to do the fantasticable and you can opt to do a tandem flight as long as your combined weight isn't more than 150 kilos.
Day 2
Morzine is a Mecca for mountain bikers, with one of the most accessible and well sign posted trail networks in Europe, however, unless you are a family that has some serious mountain biking experience (on real mountain terrain, not country trails) we recommend you hire a mountain bike guide to take you out for a half day or full day.
Morzine has many excellent MTB guides, which will get you kitted out for the day and show you the best trails in the area for your ability. This is the best way to avoid the crowds and unlock the hidden trails of the mountains, plus this way you can put your map away, take in the views and enjoy the ride! A guide will also give you plenty of useful tips and help you work on your skills.
You will need a good lunch to keep up your energy levels, so make sure to factor in a pit stop in one of the Portes du Soleil's lovely mountain restaurants.
If you have younger children and do not feel confident taking them on the lift assisted bike trails, there are some lovely trails along the river, which you can ride as a family. These shaded trails are much less challenging and suitable for all abilities. Take the trail from the swimming pool car park and you will enter the Parc des Dérêches – an activity area with a lovely play park; an animal farm, where children can have a pony ride; and a rope course.
Day 3
Lac Montriond is a stunning mountain lake, and one of the reasons that families come back to Morzine for their summer holiday year after year. The lake sits at the foot of immense cliffs, and was formed when part of the nearby Nantaux mountain fell away and created a natural dam in the existing river thousands of years ago. Now this beautiful gem of emerald green water is a wonderful beauty spot and the perfect place for a whole day of laid back family fun.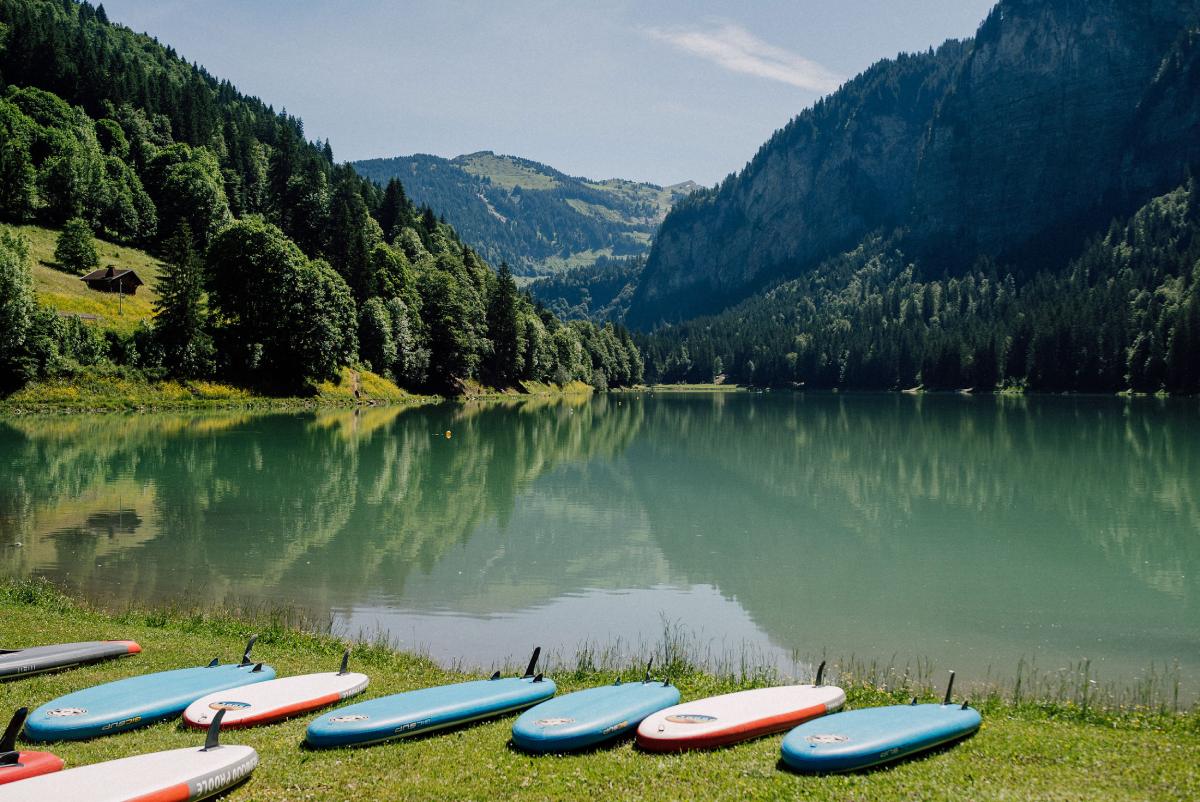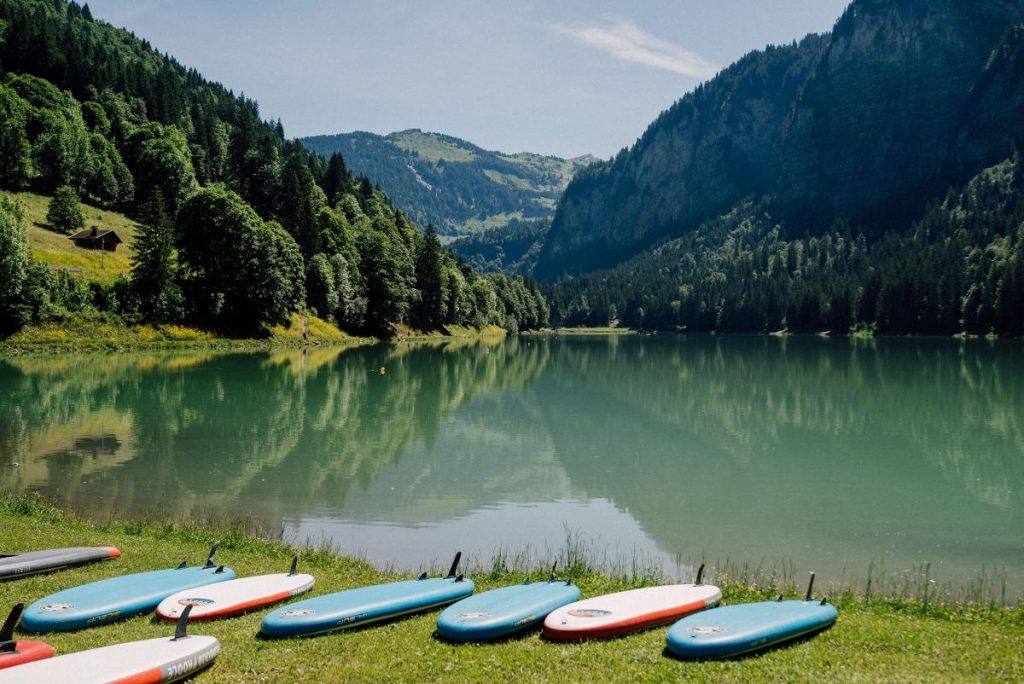 We suggest putting aside the whole day to spend here. For food you can bring a picnic to have by the lake, or enjoy lunch in one of the excellent restaurants, which range from a snack bar serving filled baguettes, salads and burgers to more gourmet Savoyard experiences where you can dine on a terrace overlooking the lake.
Around the lake you will find a whole range of family-friendly activities. At the near-side of the lake (if arriving from Morzine) you will find a family-friendly paddling lake, complete with a sand pit where children can while away hours creating their own château de sable masterpiece. Nearby you will find a small herd of calm-natured, and very cute, miniature ponies; hire one for an hour to take your little ones for a pleasant ride around the lake.
On the same side of the lake is a water sports rental facility, which offers kayaks and stand up paddle boards. You can paddle to the other end of the lake and stop for a refreshing swim.
If you would like to earn your relaxing dip in the water, there is a beautiful walk at the far end of the lake. It starts under the shade of the trees, and takes you up a peaceful valley to the top of the Cascade d'Ardent waterfall. There is a bridge across the top of the waterfall – here you can feel the rush of the water beneath you. The walk is not too strenuous and about 45 minutes each way.
Day 4
Whilst there may be no snow in Morzine in summer, that doesn't mean it is impossible to get a thrilling ride on a sledge. This town is addicted to downhill exhilaration and a ride on the luge is a fun way to join in. What's more, the driver (that's you!) controls the speed of the sledge by operating the brakes, so it is up to you whether you take a speedy dash down or enjoy the mountain views at a more gentle pace.
To get to the start of the luge, you need to pick up your sledge and take the Crusaz chairlift (on the Pleney side of Morzine, and within a few minutes walk from the centre of town). Younger children can ride with an adult and more daring riders can race side-by-side.
In the afternoon, grab your swimming gear and head down to Morzine's swimming pool complex. This is no ordinary resort swimming pool, you will find a large outdoor Olympic swimming pool, a middle size pool, a twisty waterslide, a toddlers' water park, kids play area, bouncy castle and volley ball pitch. The whole area is surrounded by gorgeous mountain views with lovely grass areas for sunbathing.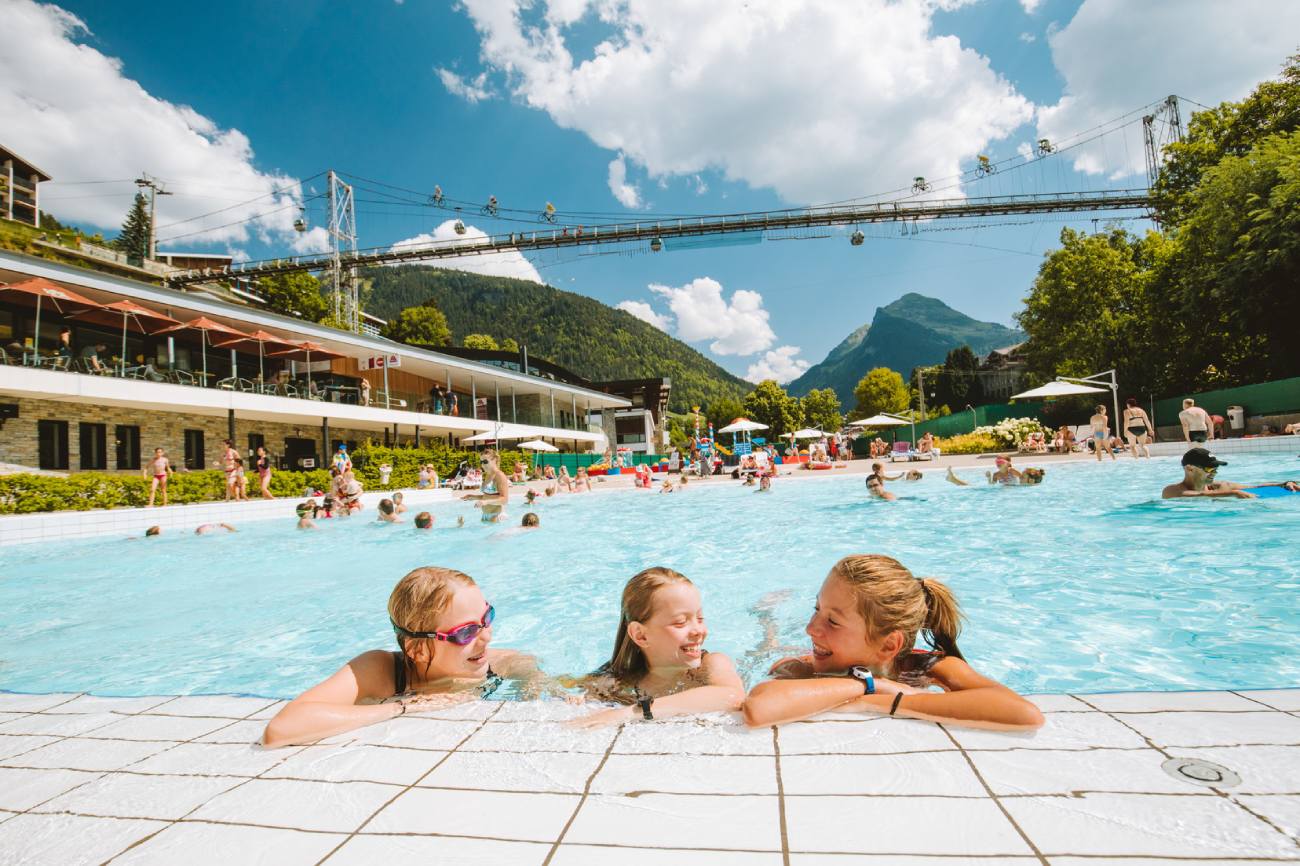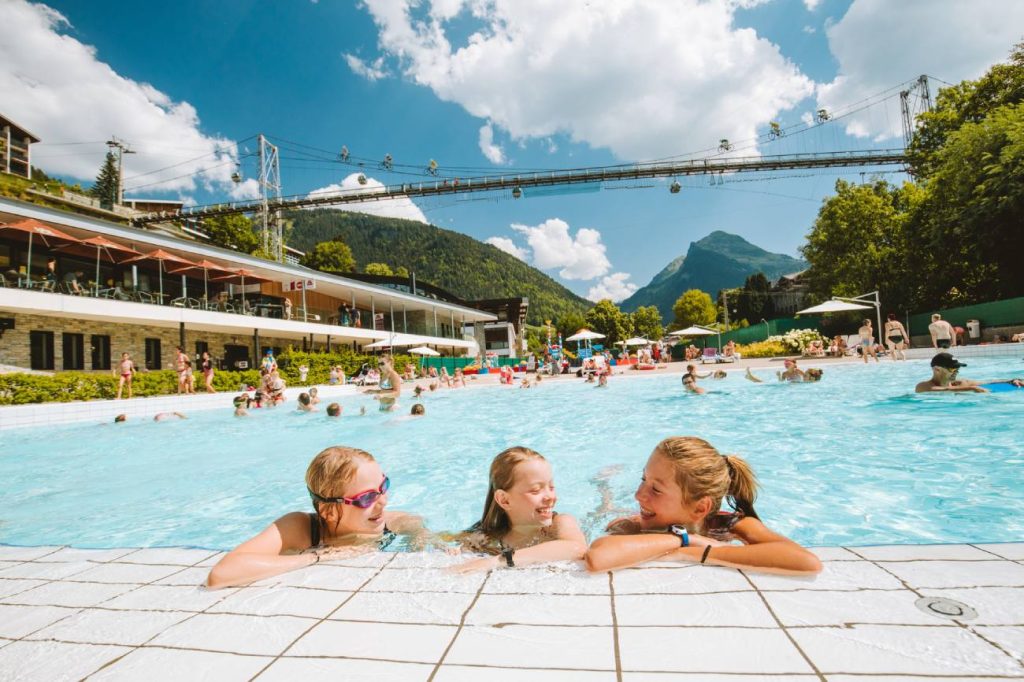 A connected indoor area has another large pool, medium sized pool and kids splash area. There is also a cafe serving excellent food: snacks, fresh salads, chicken nuggets, plat du jours and, the all important, ice creams for kids (and coffee for parents). 
Day 5
For your final morning, take a pleasant stroll along the river to the Nyon waterfall. Admire the gush of the water from various angles by taking the trails on either side of the fall. For a more adventurous route, sign up to the tree rope course with Cascade Adventure.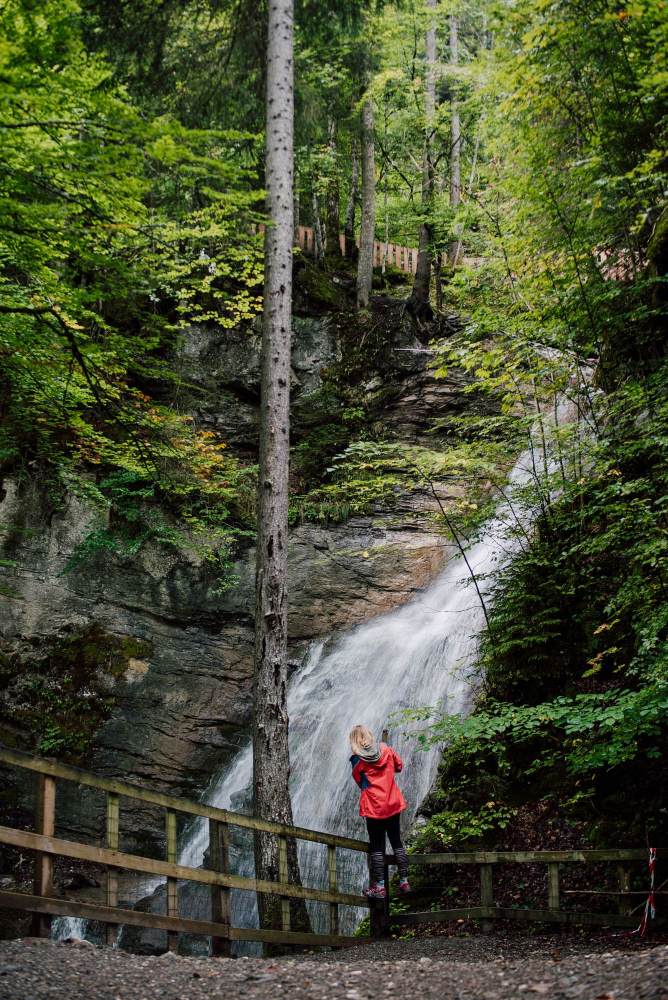 Kitted out with a helmet and safety harness you can swing through the trees right over the top of the waterfall! There is even a mini course for 3 – 6 year olds, where little ones can have fun walking on footbridges, nets and monkey bridges. 
When your little monkeys get hungry there is a lovely restaurant at the top of the waterfall, accessed on the tree-lined trail leading away from the fall to a clearing where the rope course starts.
In the afternoon, end your holiday with a thrilling ride down the rapids of the beautiful river Dranse. A rafting experience can be pre-booked with Frogs Rafting and is suitable for children from 8 years of age. Nature lovers will enjoy seeing the fascinating rock formations and deep gorges, whilst water babies will love another opportunity to get wet, jump off high rocks and help guide the raft down the twists and turns of the river.
With a maximum of 8 people in the boat, a guide will take you down the river and tailor the experience to be as leisurely or as exciting as you wish, taking the more thrilling 'special detours' for those that are up for the ride. 
If you have younger children, we suggest ending your holiday with a few more hours at Lac Montriond, because one day is not enough at this amazing natural swimming spot.
So there you have it – a 5-day itinerary full of fun and adventure for a family holiday your children will never forget!