What Makes Wedding Venues in the Alps So Unique?
James | November 2nd, 2020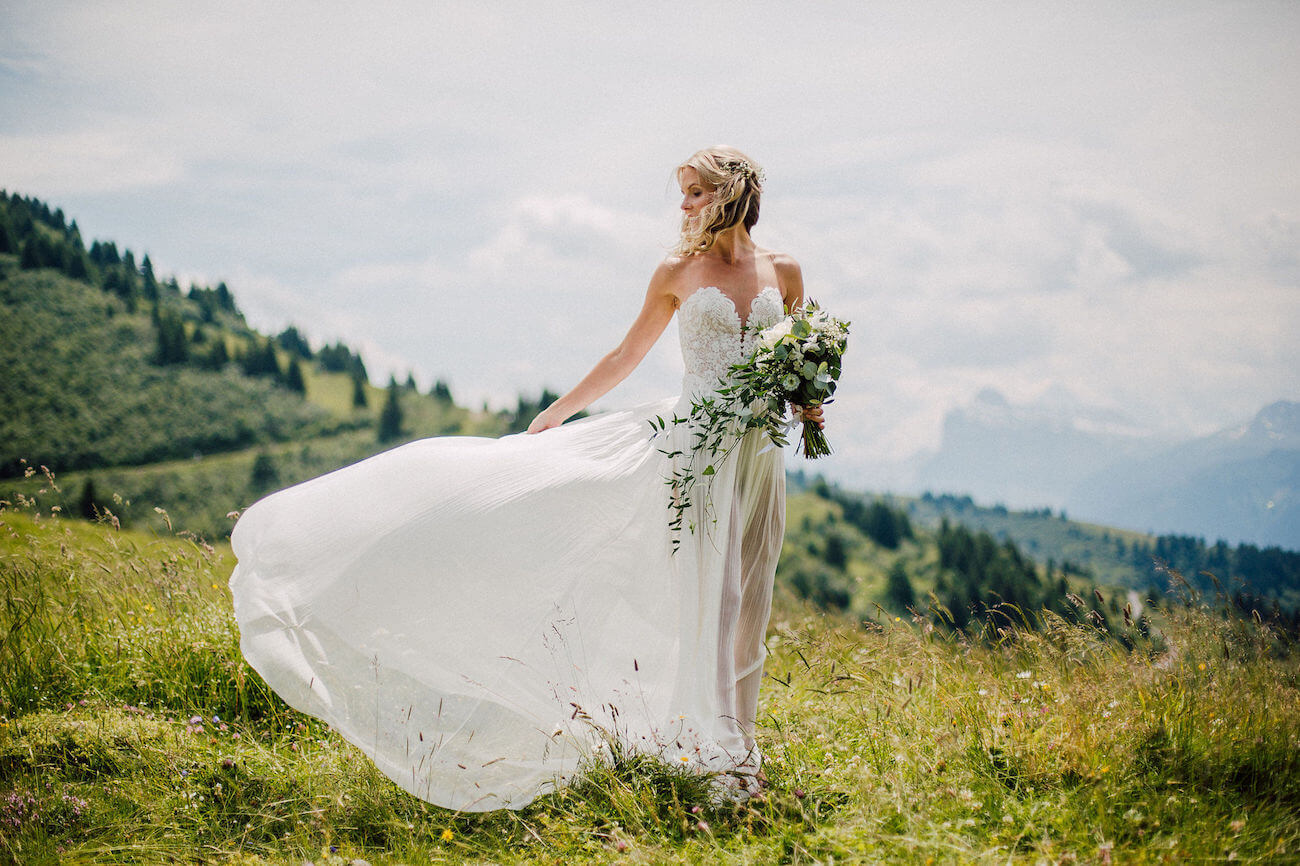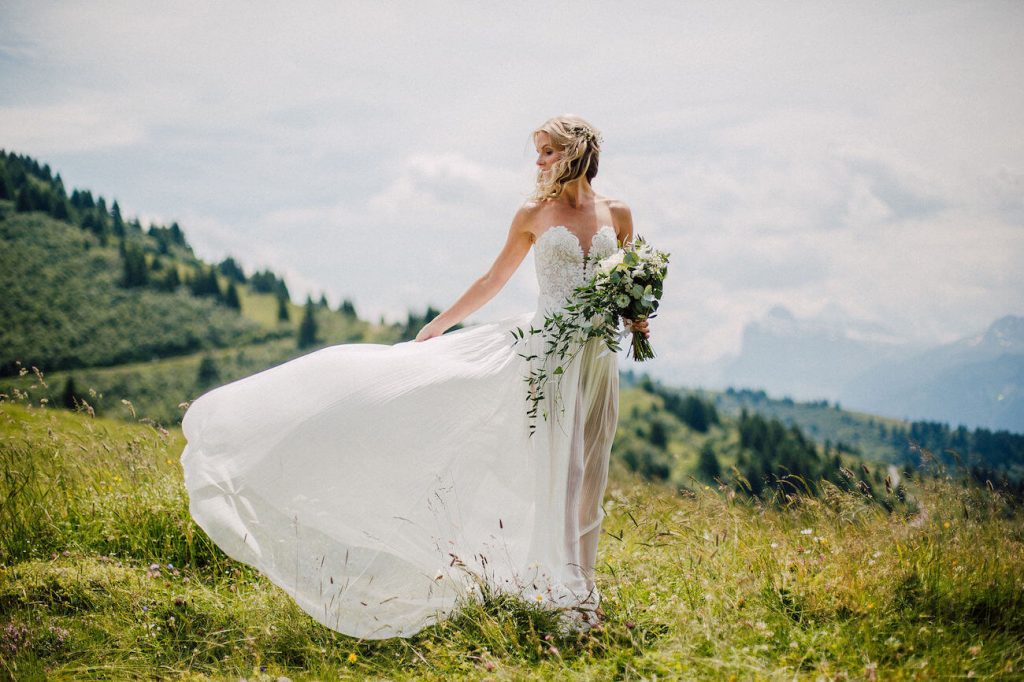 You are both on cloud nine. You have recently got engaged and you are now at the exciting stage of deciding where to get married. Will it be in one of your home towns, where you currently live or somewhere completely unique? Perhaps your considering finding one of the most unique wedding venues in the Alps?
We have put together our thoughts as to why we think more and more people are deciding to get married in the mountains. We also discuss what makes wedding venues in the Alps so unique.
1) Romantic locations with amazing surroundings
It is so romantic when you decide to marry in the French Alps. The scenery and landscape are stunning. Firstly, you have the background of jaw dropping mountains. Secondly, the ringing bells from the alpine cows grazing in the nearby fields. Thirdly, the sound of gushing water down the local rivers. Finally, the breath-taking natural lakes and the beautiful sunshine to name just a few.
This as well as having all your close family and friends together on an alpine adventure, pure heaven!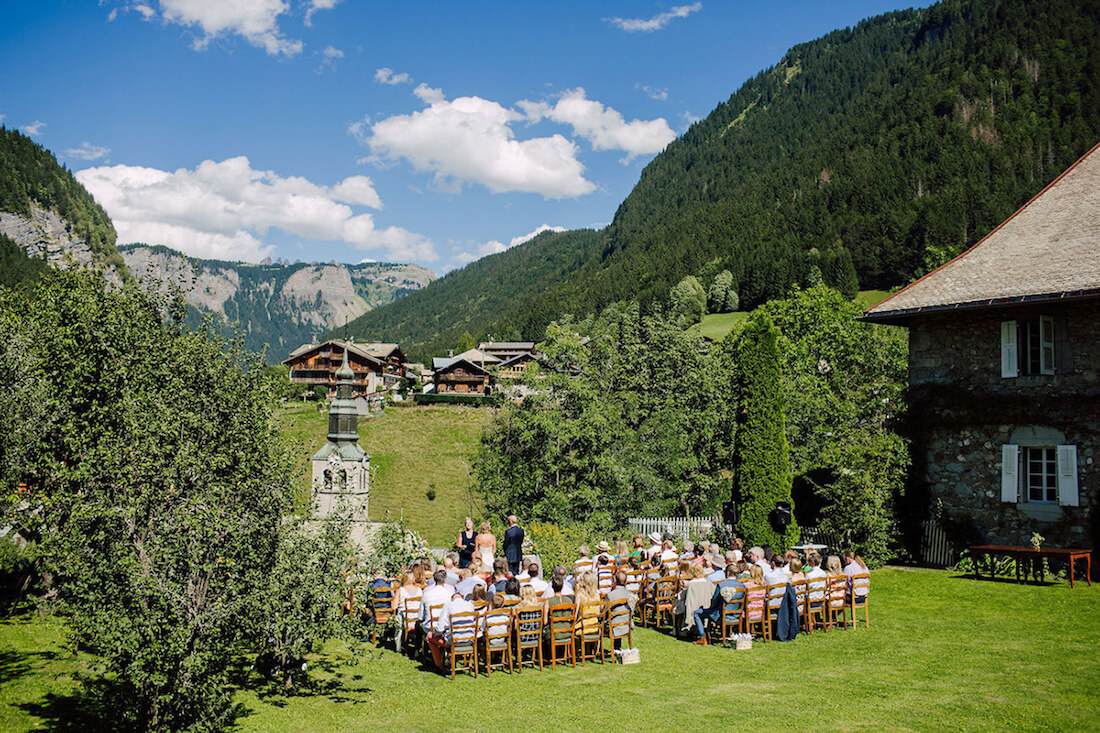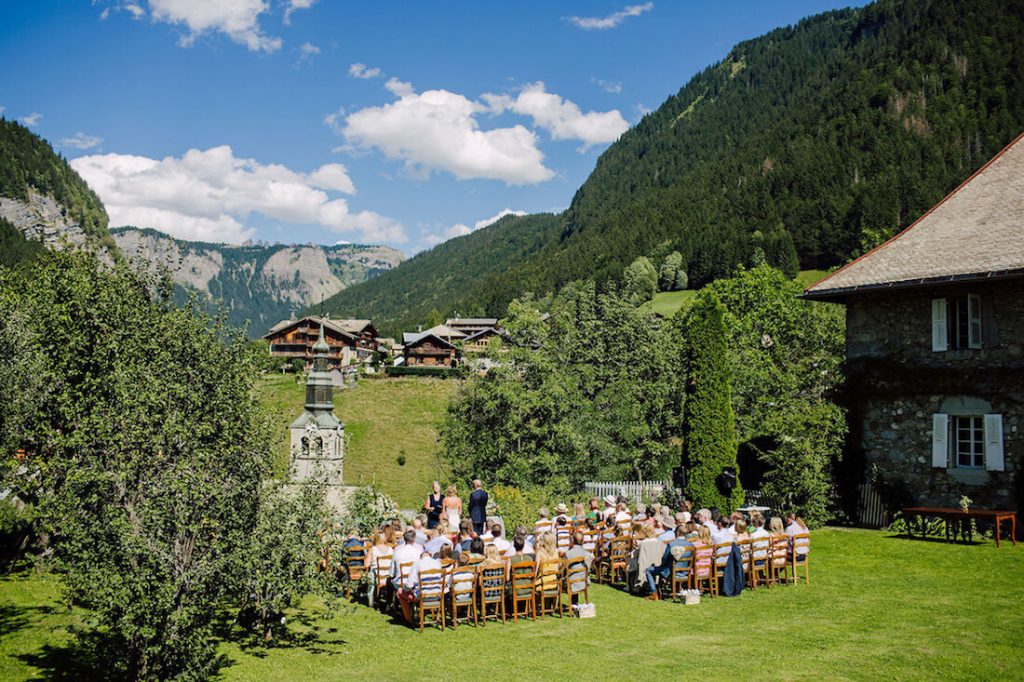 2) A fantastic adventure for you and your guests
Many of your family and friends might never have been to the Alps. If they have it is less likely they will have been in the summer.
This adds to the occasion as your guests will be super excited to be attending your wedding and heading off to an unknown destination. Staying in a beautiful wedding venue will enhance their experience.
3) Choose between endless activities or calm and serenity
Once at your wedding venue in the alps there are so many exciting activities to experience. Whether that be paragliding, hiking in the mountains, swimming in the lakes, paddle boarding, road cycling, mountain biking, canyoning, golf, or just soaking up the atmosphere, the list goes on. Your guests will never be looking for things to do and you can relax safe in the knowledge that they are all thoroughly enjoying themselves.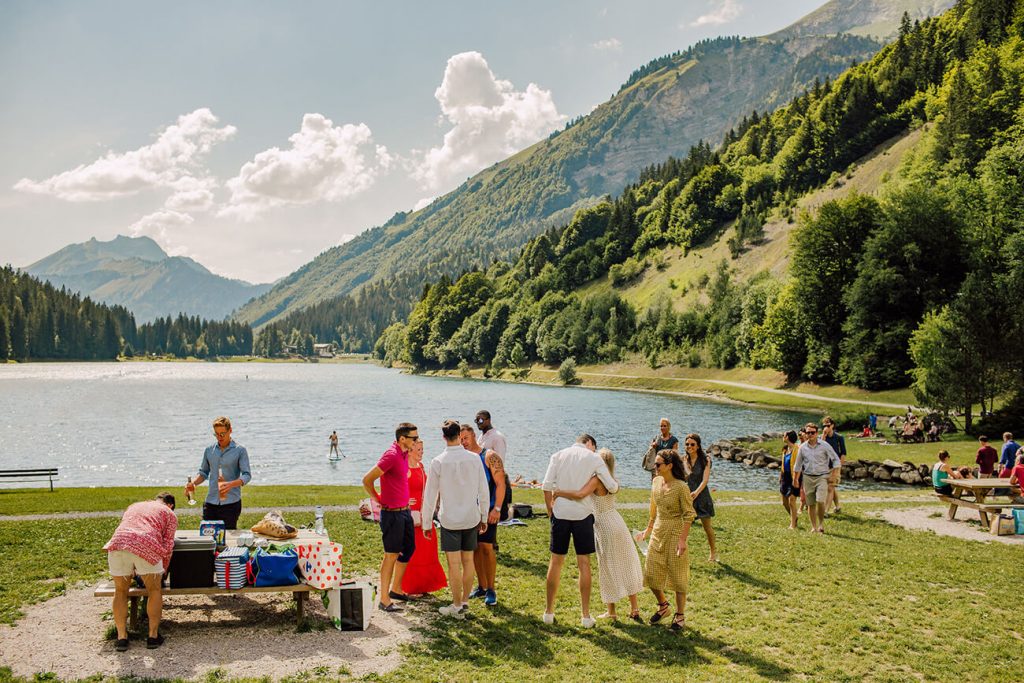 4) You will have a personal exclusive venue for your wedding weekend
If you are booking a stunning wedding venue it is likely you will have allotted times as to when you can arrive and when you must leave. There might well be two or three weddings on the same day. One thing you will find with wedding venues in the Alps is you have exclusive use of the venue for a minimum of three nights. This means the venue is much more personal and feels like your venue for the entire wedding weekend. You are hosting your family and friends in your venue rather than you are guests at someone else's venue.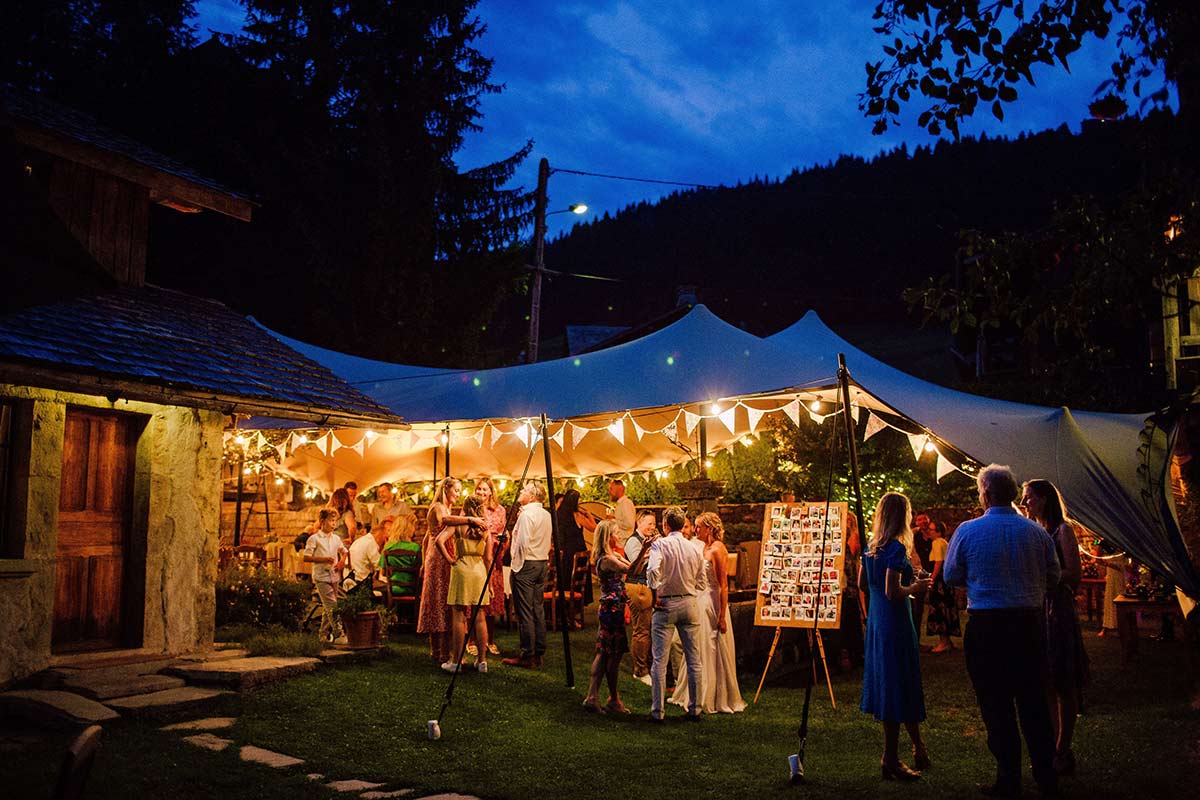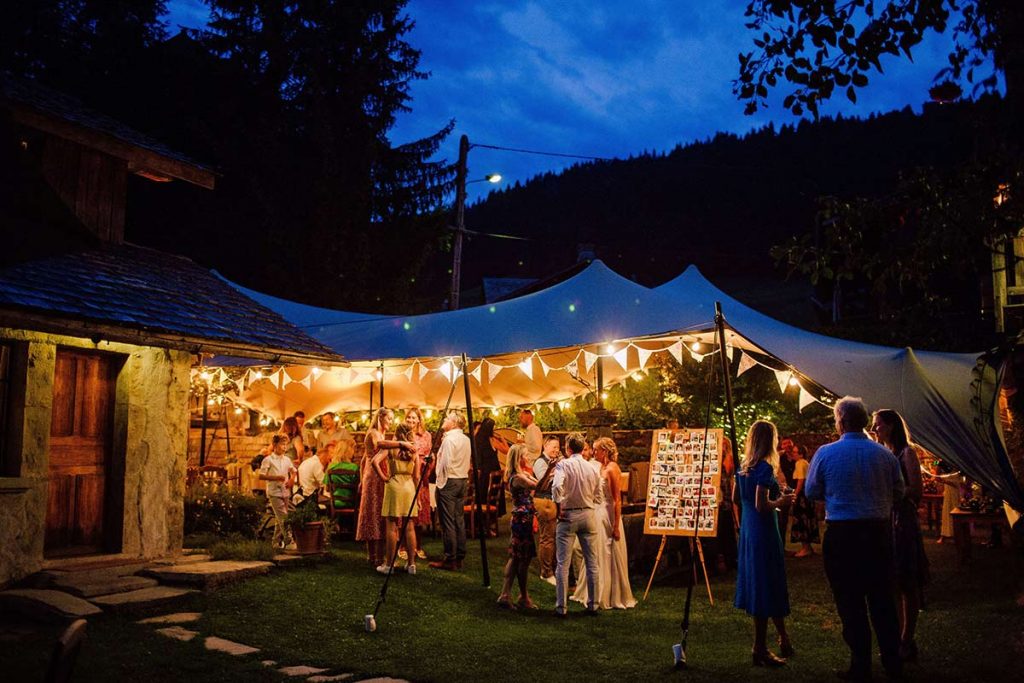 5) An easy destination to come together from across the globe
Over the years we have noticed that more and more of our wedding guests are from across the globe. Our research has suggested that people find the French Alps an easy destination to get to from all over the world. Most will fly into Geneva airport and from there it is just 1hr 15 minutes to Morzine. It is this short transfer time that really appeals.
6) There is a fantastic array of local French produce to choose from
There is so much tasty local produce to choose from in the Alps and this is a big attraction for wedding couples with inquisitive palates. Whether it be the vast array of local cheeses, meats, charcuterie, fruit and vegetables, wild berries or local honey, there is so much to tantalise your taste buds.
7) A relaxed and informal location
If you are hosting your wedding in the French Alps it can be more relaxed and informal than a traditional wedding back home. Your guests will be in a new and exciting environment. The ceremony is often held at the wedding venue. You will be outside and surrounded by an amazing backdrop of mountains and blue skies, rather than a traditional church service. If you are not from a religious background, the more chilled vibe of a mountain wedding is really appealing.
Getting married in the French Alps?
Please get in touch to find out how we can make your wedding weekend truly memorable at The Farmhouse.
We are a private manor house in the heart of Morzine in the Haute Savoie region. We look forward to hearing from you.