Summer Holiday In The Alps – How To Make The Most Of It
James | January 28th, 2021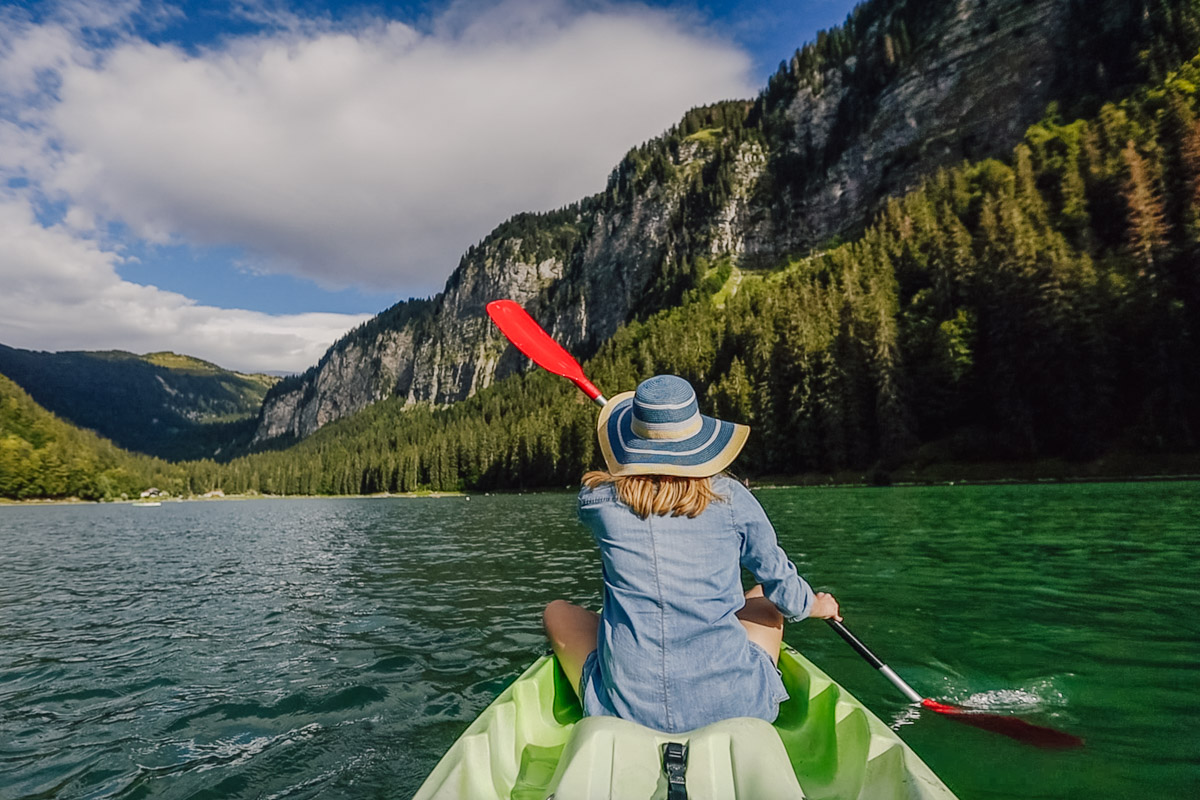 For a lot of people the Alps is traditionally a winter holiday destination drawing people from across the globe looking to enjoy the snowy slopes. However, during the warmer months the Alps, Morzine in particular, transforms into the most amazing natural adventure playground.
With a favorable climate, crystal clear lakes to swim in, wildflower meadows to walk in and a whole host of adventurous activities to try, there really isn't a better destination for a summer holiday.
Why You Should Consider A Summer Holiday In Morzine
The Weather – Visiting Morzine in the summer is a very different experience to visiting in the winter. The first thing you'll notice is the temperature. During the peak summer season the average temperature is a pleasant 21 degrees celsius. It does sometimes get a lot warmer, and sometimes wetter but the village generally enjoys a lot of blue skies and sunshine. With the warmer temperatures, you'll also notice a lack of snow about the place with the surrounding white slopes being replaced with rich green forest and alpine wildflower meadows. The greens of the mountains combined with the deep blue skies create a wonderful mountainous vista.
Things To Do – The list of things to do in Morzine during the summer season is endless (we have written more on a lot of these activities in our other blogs which you can check out here). Whether you're feeling adventurous or just looking for a lazy afternoon by the lake, there is something for everyone. From white water rafting, cycling and hiking to swimming, yoga classes and massages, Morzine really does have it all. You will also notice that the main ski lifts around the village are operational. This means you can effortlessly gain some altitude, get some fantastic views and enjoy a whole host of mountain activities.
So to summarise, Morzine has the weather, it has the beautiful natural landscape to explore and a whole host of adventurous, and not so adventurous activities to try. Combine this with fantastic food and a drink and some beautiful accommodation and you've got the makings of a perfect summer holiday destination.
How To Make The Most Of A Summer Holiday In Morzine
So, you have decided that Morzine sounds like the perfect place for your next summer holiday, but how do you make sure you're doing it right? Well we've put together some top tips to help you make the most of your visit.
1) Choose the Right Method Of Travel
Getting to and from Morzine during the summer season is easy and there are a few different options. The nearest airport is Geneva which is serviced daily by most major UK airports. The drive up to Morzine takes just over an hour and there are multiple companies offering transfers. Most of them will transport sporting equipment such as golf clubs and bikes for free so it's easy to travel with your own equipment if you wish.
Driving is also a popular option from the UK as Morzine is located just 8 hours drive from Calais. The route is largely toll road motorway which is direct and efficient with plenty of good places to stop along the way (click here to see our driving to Morzine guide). If you're travelling as a family or group of friends it can also be financially advantageous to drive. The other benefit of driving is having a car whilst in Morzine meaning you have a little more freedom to explore the wider area.
2) Be Adventurous
With so many things to see and do in Morzine during the summer, we recommend being as adventurous as possible and trying as many of them as you can. Creating unforgettable memories is what holidays are all about and what better way to do it than trying something new.
Try Some New Water Sports – If you like water then we recommend the white water rafting tour or how about trying canyoning? The canyoning tour in Morzine involves abseiling down into a gorge then following the water course down the mountain through a series of pools and waterfalls. Under the expert supervision of the guides you'll jump, slide and swim your way down the magical gorge ending up in the beautiful Cascade de Nyon. There is also swimming in the stunning Lake Montriond, stand up paddle boarding, kayaking and canoeing.
Experience A High Altitude Adventure – If you like heights then there are high ropes courses in the forests or the fantasticable, a high speed, high altitude zip line course that traverses 240m above the valley floor. Paragliding is probably one of the most memorable activities you could do. Taking off high on the Super Morzine mountain you'll double up with a qualified pilot and gracefully ride the thermals high above the village. You'll be treated to unbelievable views of the Alps and you'll be able to see the summit of Mont Blanc on a clear day.
Get Out On Two Wheels – If cycling appeals to you then you couldn't be better located to get out on two wheels. Whether its road cycling or mountain biking, Morzine has world class provisions for both. Frequently hosting stages of the Tour de France, the road cycling in Morzine is unbelievable and no matter if you're new to the sport or an old hand, there is something for everyone. Morzine is also right at the heart of Europe's biggest mountain bike park with over 600 kms of trails ranging from greens and blues for beginners to reds and blacks for experts (same grading scale as skiing).
Stretch Your Legs And Head Out For A Hike – The amount of hiking in and around Morzine is simply staggering, ranging from short easy trails to summiting mountain peaks. The scenery is stunning and it's hard not to be captured by the sights, sounds and smells of the alpine forests and meadows during the summer months. We have written guide to our favorite hikes here.
7) Gain Altitude
Whether you hike it, cycle it, drive it or simply take the gondola up we cannot recommend getting to the top of some of the mountains highly enough. The views on offer are simply breathtaking. Driving, cycling or hiking to the summit of the Joux Plane is fantastic or hiking or cycling to the summit of Le Pleney in Morzine or Mont Chery in neighbouring Les Gets are some of our favourites. Both Le Pleney and Mont Chery are conveniently serviced by chair lifts so getting to the top can be as easy as you like and both have restaurants to take in the views with some refreshments.
8) Eat Out
It wouldn't be a holiday without sampling some of the local cuisine and fortunately Morzine is home to a whole host of fantastic restaurants. On a sunny warm evening there is nothing better than enjoying some al fresco dining on the terrace of one of Morzine's fantastic restaurants. La Rotonde is centrally located, has a wonderful menu and a lovely vibrant outdoor terrace to eat on. L'Etale, La Chamade, La Grange and La Dez'Alp restaurants are all fantastic and all have outside terraces where you can watch the world go by.
9) Sleep Well
The fresh mountain air and the peaceful ambience of a small alpine village offer the perfect conditions to relax and recuperate in. The sounds of the cow bells softly clinking in the distance and the fresh bread smells wafting along from the boulangerie are typical of the village.
Finding somewhere great to stay to make the most of your time in Morzine is paramount to the enjoyment of your holiday. If you're looking for just that then why not click here to take a look at The Farmhouse, a boutique hotel in a beautifully historic building offering one of the best places to stay in Morzine.