Winter Guide to Morzine Ski Resort 2023-2024
James | November 1st, 2023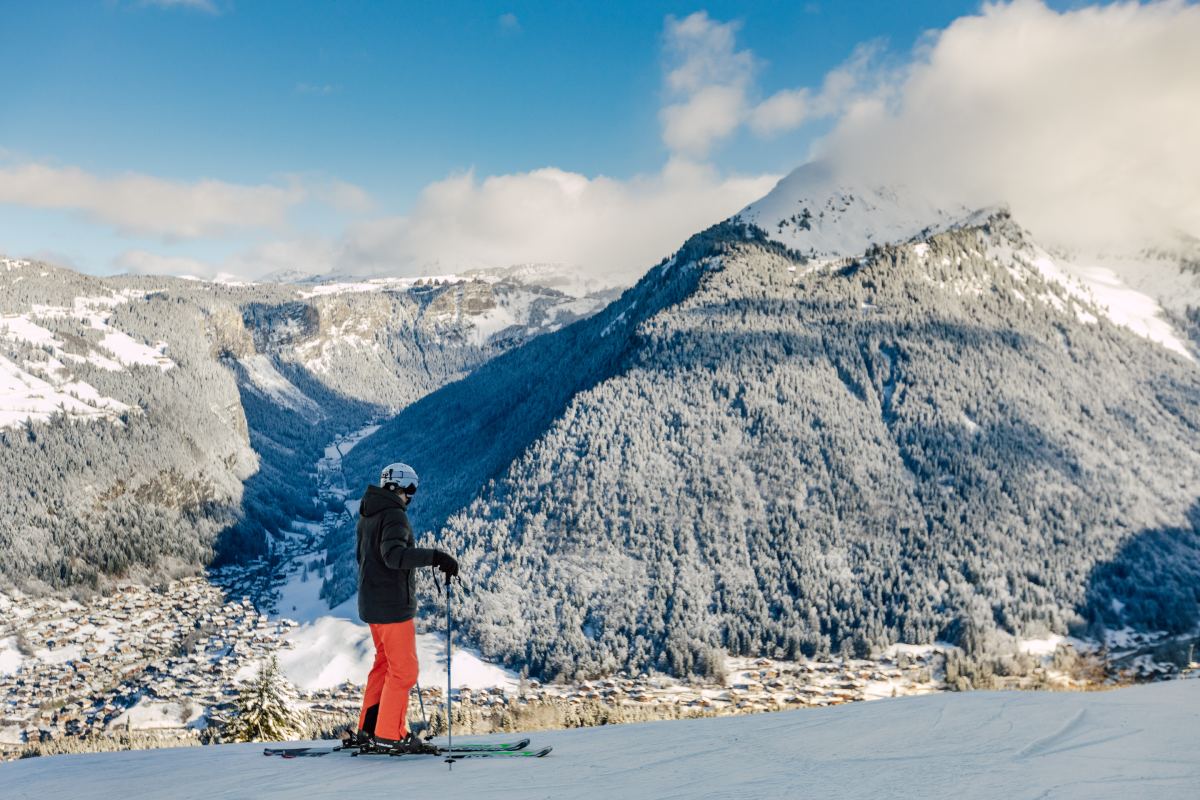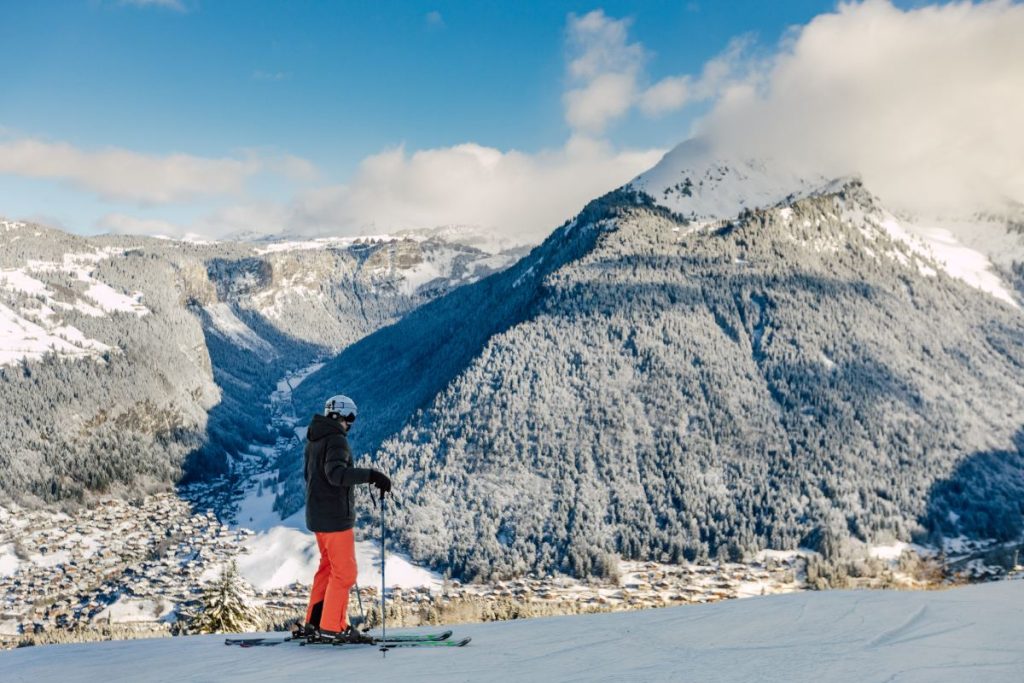 Are you planning to come and ski in our wonderful resort town of Morzine this winter? Then our Morzine ski resort guide is an absolute must read.
Whether you are passionate about skiing and snowboarding, or simply enjoy the beauty and magnificence of snow covered mountains, our team has put together a fully comprehensive guide to a winter holiday in Morzine.
Discover everything you could possibly need to know about one of the most beautiful resorts in the French Alps. Read the full article to ensure an unforgettable trip and use the contents to jump straight back into the key bits of information you may need!
Morzine: A Resort town in the Heart of the Portes du Soleil
Vibrant and full of charm, the town of Morzine is known for its surroundings and the incredible natural beauty to be seen there. Set in the heart of the Portes du Soleil, Morzine offers a plethora of activities all year round. However, it is the winter that brings some of the most thrilling opportunities in the form of skiing, snowboarding and other downhill sports.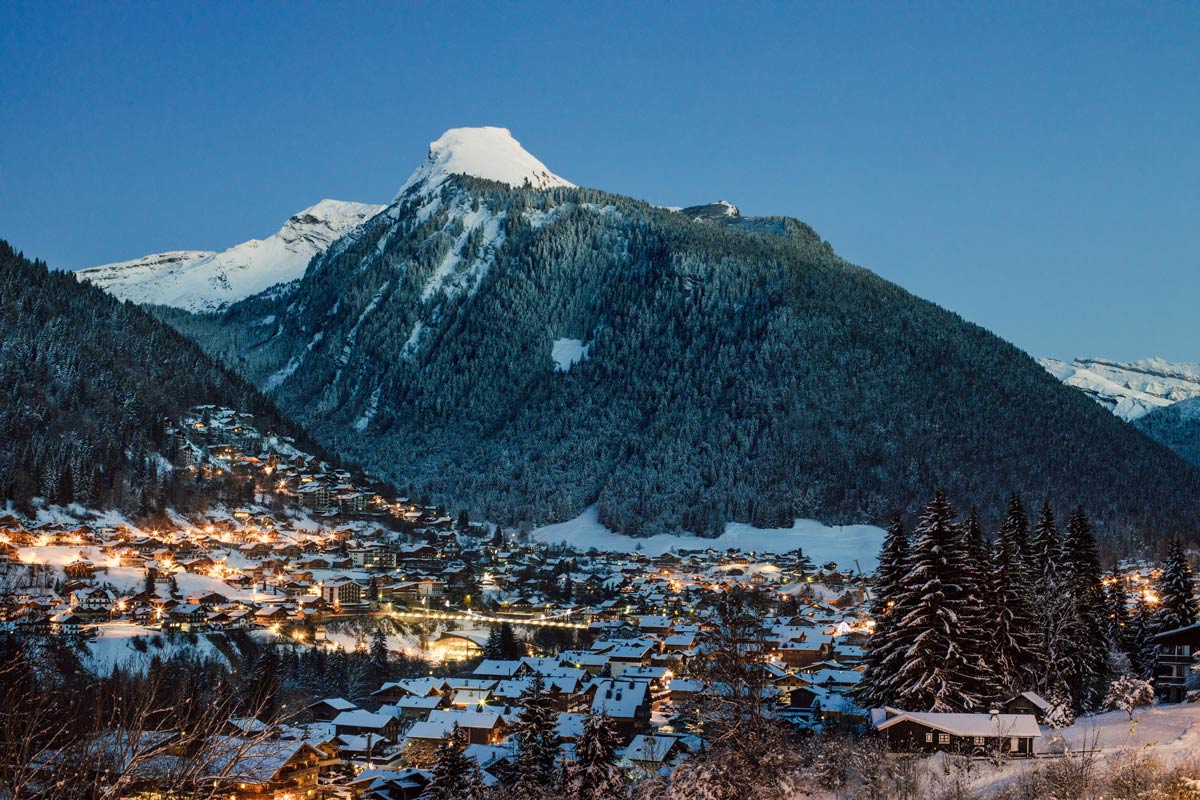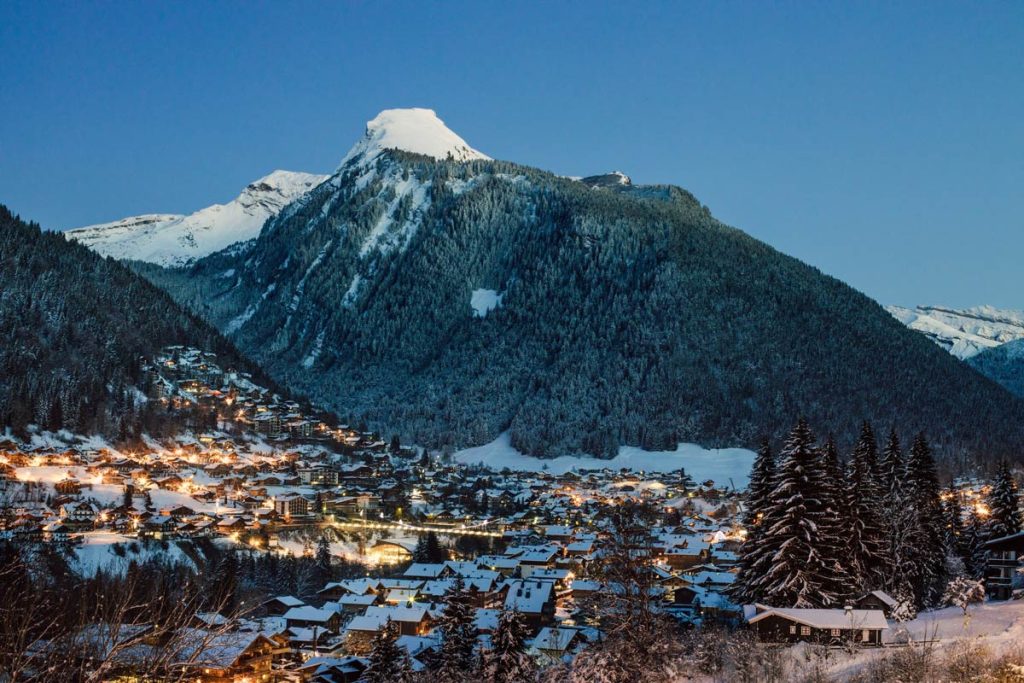 No matter what you look for in your winter holiday, there is something for everyone in Morzine. All of which can be found only an hour and 15 minutes away from Geneva airport!
Although Morzine is located only 1000 metres above sea level, the resort enjoys excellent snow cover throughout the winter season. The days regularly alternate between heavy snowfalls and magnificent sunny days, making it an ideal destination for your skiing holiday this winter.
How to Reach Morzine from Geneva airport?
For travellers arriving by plane to Geneva airport in Switzerland, there are two straightforward methods of reaching Morzine:
1) Private Shared transfer
The first option is offered by The Skiidy Gonzales company who provides private and shared transfers between Geneva airport to the resorts of Morzine, Les Gets and Avoriaz. Booking this transfer will provide you peace of mind that you will reach your destination smoothly and safely whilst the price is shared between the group.
All you have to do is book in with Skiidy Gonzales and your driver will collect you from the airport and drop you off in Morzine within an hour and 15 minutes!
2) Public transport
The second way to reach Morzine is to use the available public transport. This option is understandably more economical but it will take longer than a private transfer.
You can either take the train from Geneva to Thonon-les-Bains, before boarding the bus at the station using the Y91 line. Or you can take the bus from Cluses train station, again, on line Y92 .
Good to know if you are travelling by car
If you are travelling to Morzine by car it is important to note that snow tires are mandatory from November 1st to March 31st, when driving in the Haute-Savoie. We also recommend that you equip yourself with chains or snow socks for your tires, as the roads are not guaranteed to be clear during or after heavy snowfall.
The Best Time To Come To Morzine
Due to its location between Mont-Blanc and Lake Geneva, the resort receives a very good level of snowfall every year. This makes Morzine an incredibly popular ski holiday destination. Therefore, we recommend planning your stay outside of school holiday time if it is possible for you to do so.
This will benefit you on multiple levels as it will mean better rates on accommodation and transport, as well as quieter slopes for you to enjoy when skiing.
Ski Passes and Ski Areas in Morzine
Morzine is in a brilliant location, situated halfway between Les Gets and Avoriaz in the Portes du Soleil. This means you have two choices available to you when choosing a ski pass package: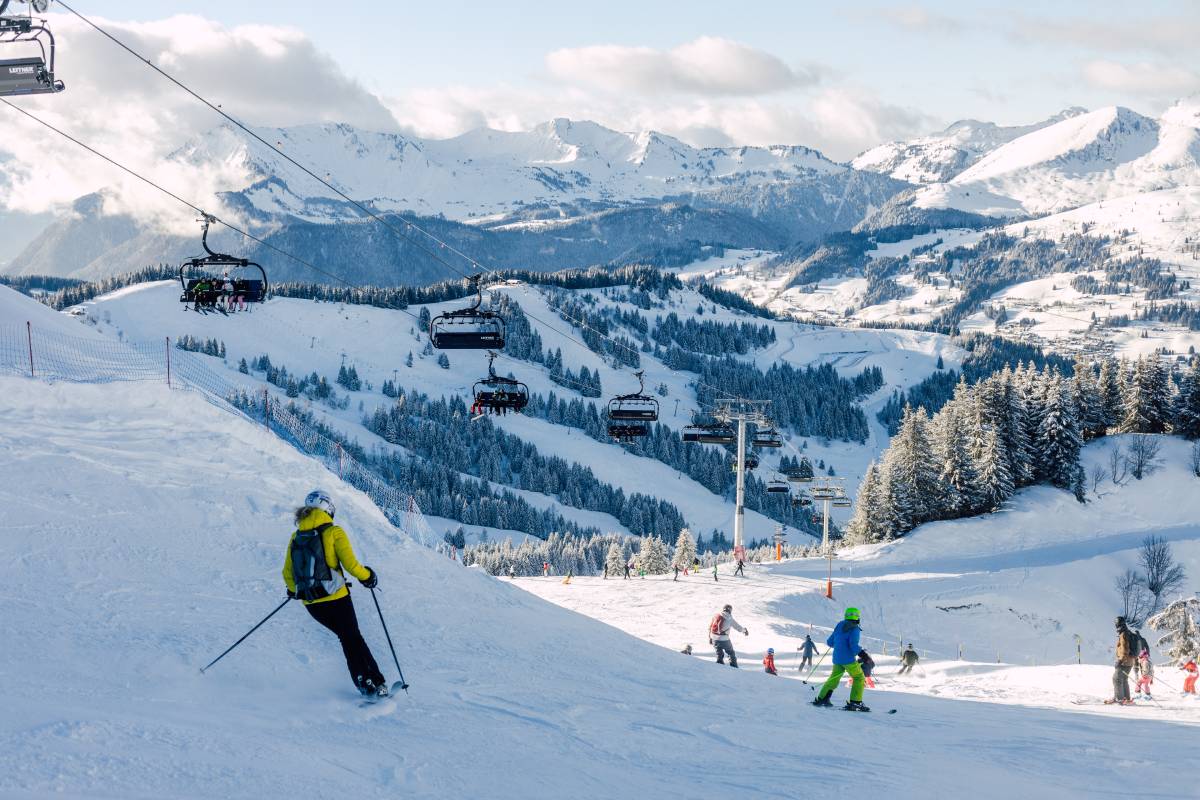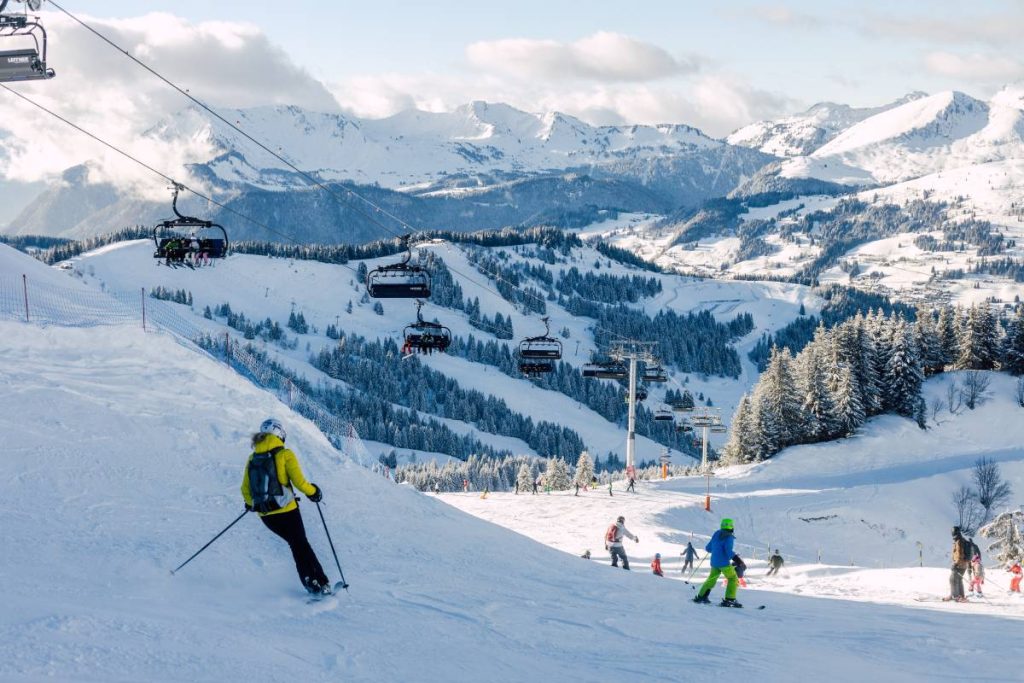 Morzine – Les Gets Ski Pass: 107 km of snowy slopes at a low price for the whole family
The Morzine to Les Gets ski pass is a fantastic option for families, beginners and those who enjoy a quieter slope. The pass covers an area of 107 km worth of slopes, ranging between 1000-2000 metres above sea level. With the Morzine – Les Gets pass you will have access to:
47 ski lifts
5 green slopes
29 blue slopes
28 red slopes
9 black slopes
(71 ski slopes total)
3 snowparks
All of which for an affordable price:
€46 – One day pass (adult)
€36 – One day pass (child 5-15)
€40 – One day pass (young person 16-25 years old)
€192-€252 – Six day pass per person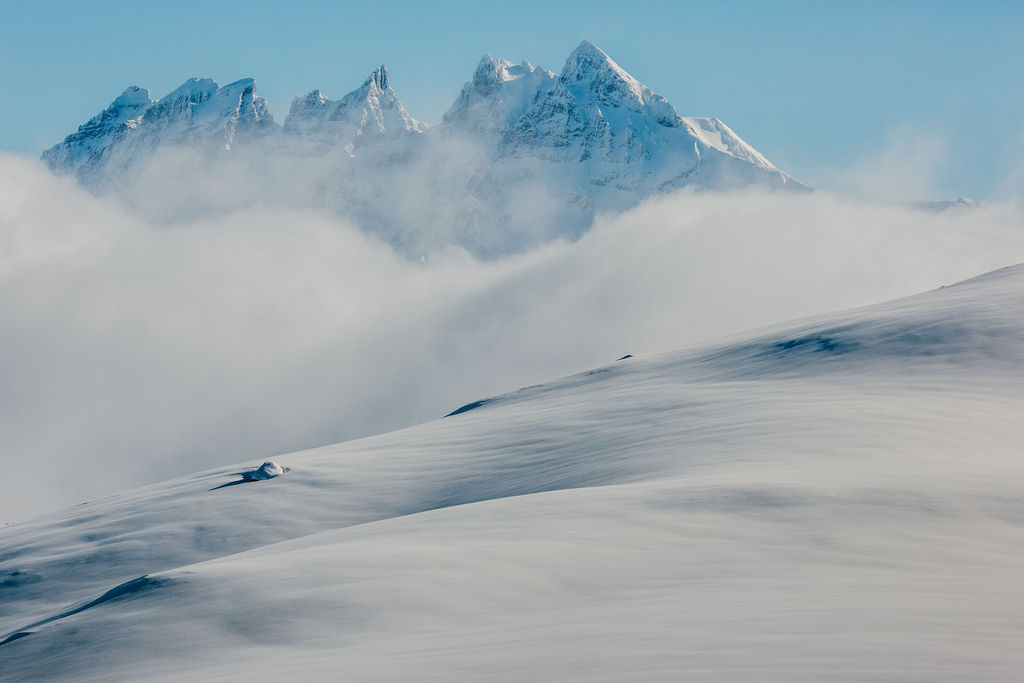 Portes du Soleil Package: 600 km of skiing for a major ski holiday
If you are hoping to cover more ground, then the Portes du Soleil ski package might be for you.
With 13 ski resorts spread over 400 km2 in France and Switzerland, the Portes du Soleil area is one of the largest ski areas in the Alps.
This pass includes:
11 snowparks
37 green slopes
123 blue slopes
110 red slopes
30 black slopes
(330 ski slopes total)
With this pass all levels of skiers and snowboarders are sure to have a blast in the mountains of the Portes du Soleil!
Whilst it is pricier than the Morzine – Les Gets pass, the Portes du Soleil Pass remains very affordable in terms of value for money:
€64 – One-day pass (adult)
€214 – €281 – 5 day pass per person
Ski Lessons in Morzine
Whether you want to learn to ski or you are looking to improve your existing skills, there are several ski schools in Morzine available to choose from.
The ESF and several other private ski schools offer group lessons for adults and children in downhill skiing, snowboarding and handi skiing.
You can also find multiple independent instructors for private lessons in skiing and other snow sports, such as snowboarding, off-piste, ski touring, heliskiing, speed riding, etc.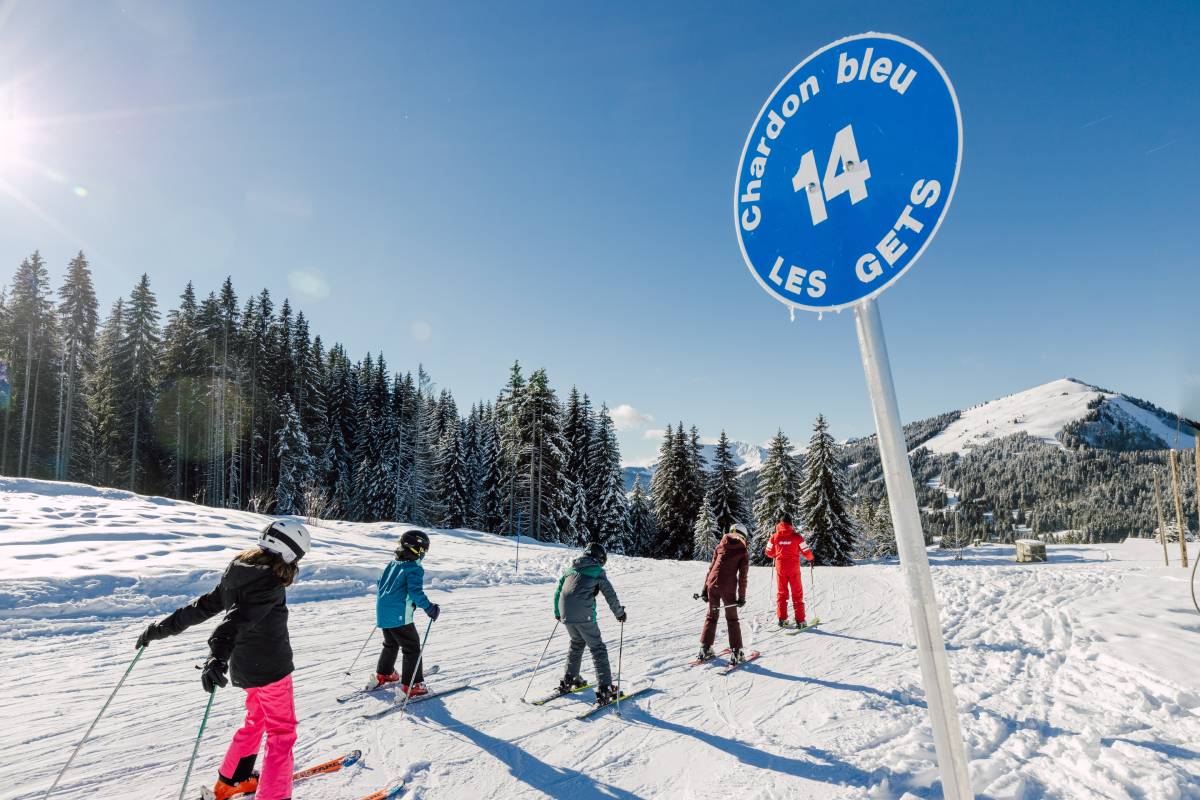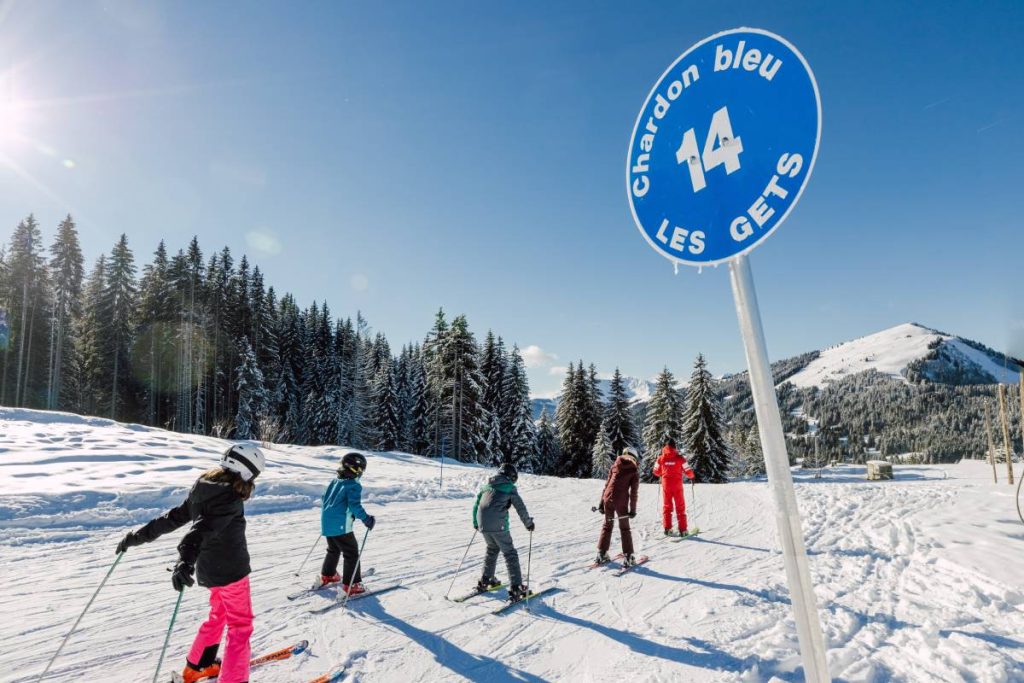 Ski Hire in Morzine
Skis and snowboards are expensive, as is all the equipment to go with them. Ski rental shops are brilliant facilities which allow you to hire top quality gear without having to splash out or travel with it.
You will also benefit from specialist advice when picking up your equipment and the rental shops will ensure you have the gear that is best suited to your level and your needs.
There are a number of great ski hire shops in Morzine, most of which will offer:
Skis
Snowboards
Snowshoes
Sleds
Helmets
Sports cameras
Skates
Baby carriers
Pushchairs
Other Winter Activities in Morzine
A winter holiday in Morzine doesn't have to just be about skiing. Whether skiing isn't for you or you simply fancy trying something else, there is an amazing variety of other sports and activities you can take part in in the area.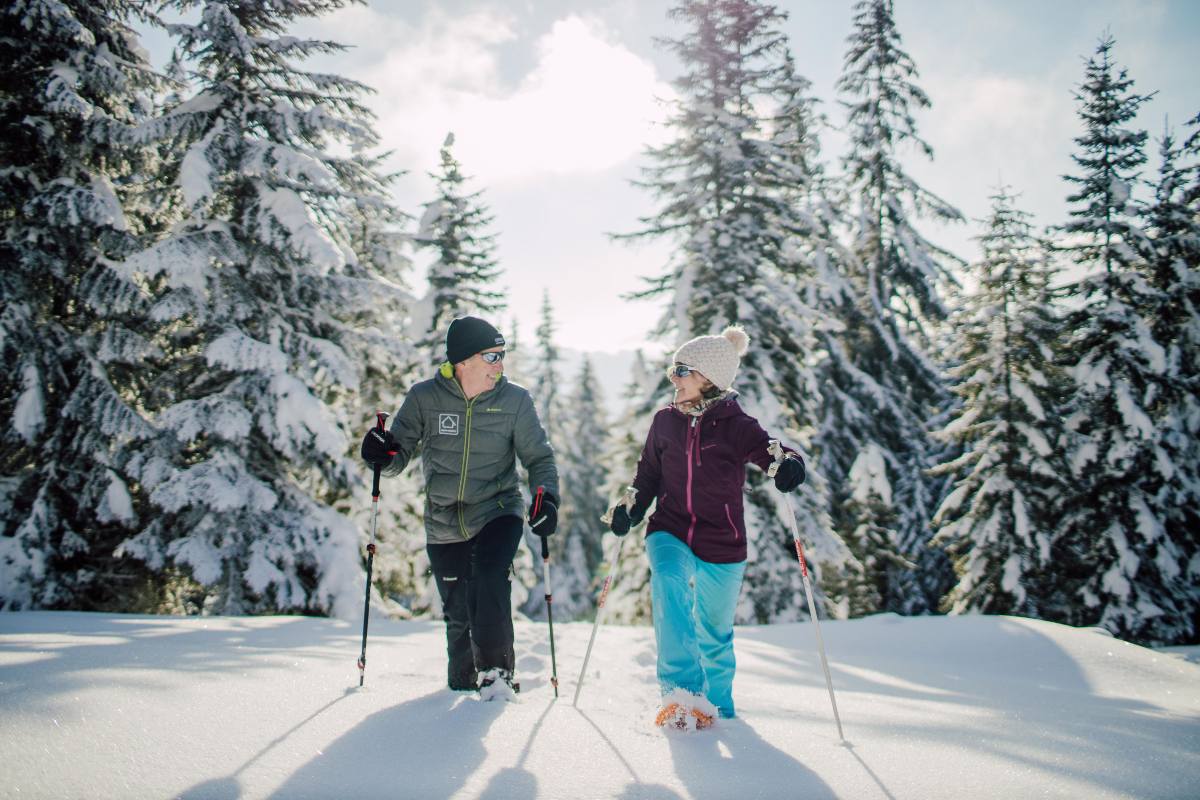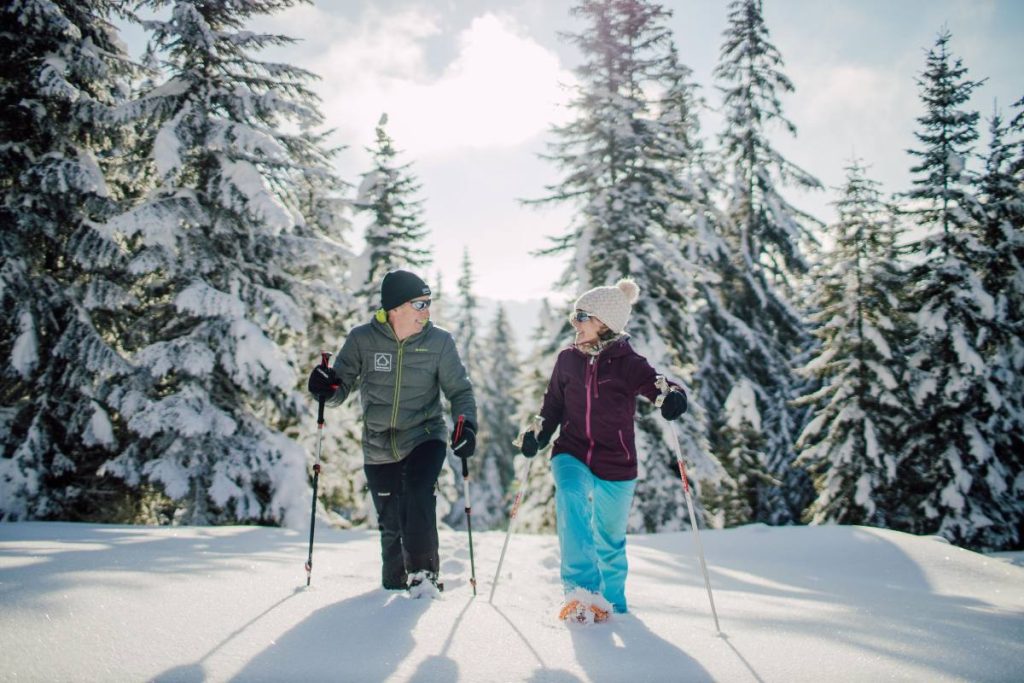 Here are a list of things we recommend giving a go:
Snowshoeing
Ice skating
Snowmobiling
Paragliding
Sleigh rides
Biathlon
Bubble Foot
Tobogganing
And there's even more activities to be discovered inside, including the Parc des Dérêches – Morzine's sport and leisure centre that offers indoor swimming, spas and other indoor and outdoor activities!
Unmissable Scenic Spots around Morzine in Winter
Besides the ski slopes there is a wonderful array of natural landmarks and spectacular viewpoints to be visited in the Alps during winter time. If you're coming to Morzine for a winter holiday then that is the perfect time to discover Mont-Blanc in all of its snow covered glory!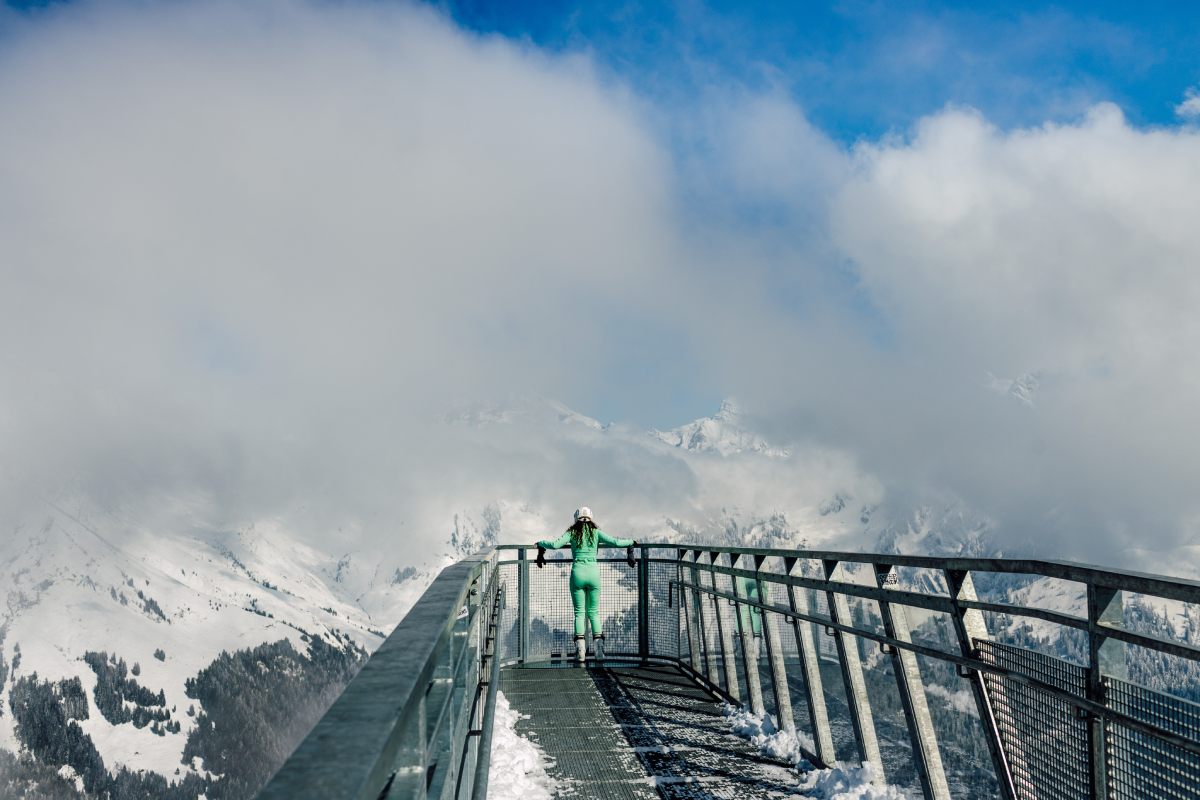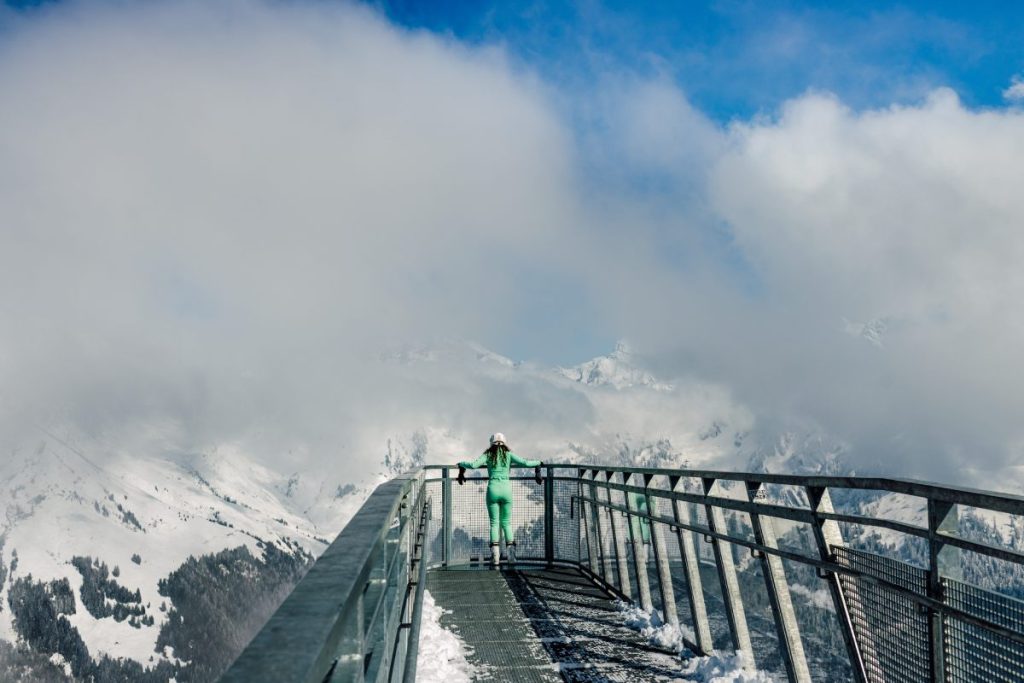 Other fantastic locations that cannot be missed when in Morzine in winter include the Pointe de Nyon, Ranfoilly platform and the Pointes des Mosettes – all of which can be accessed via chairlifts during your day on the slopes!
Great Winter Spots in Town
When you're not admiring Mont-Blanc, whizzing downhill on skis or taking in the magnificent views, here are a few excellent spots to visit in town.
First of all, whether you're a couple, with family or with friends, we recommend you take some time off the slopes to visit the Old Town of Morzine. Immerse yourself in the roots of the beautiful mountain village and take some time to relax and browse your surroundings.

We also suggest a visit to l'Alpage, located in a traditional cheese dairy. Here you will get to try delicious local cheeses from the Haute-Savoie that would make anyone's trip to Morzine!
The Best Places to Eat in Morzine in Winter
After a long day skiing, snowboarding, hiking or adventuring in one of the many ways Morzine has to offer, it is essential to recover by relaxing with family and friends and eating good food! In Morzine, you're in luck. One of the best things about the French Alps, besides the snow and the scenery, is the gourmet cuisine.
In and around Morzine there are endless dining opportunities to discover, from traditional Savoyard fondue to local charcuterie to food from all over the world, so we have made a list of some of our favourites here at The Farmhouse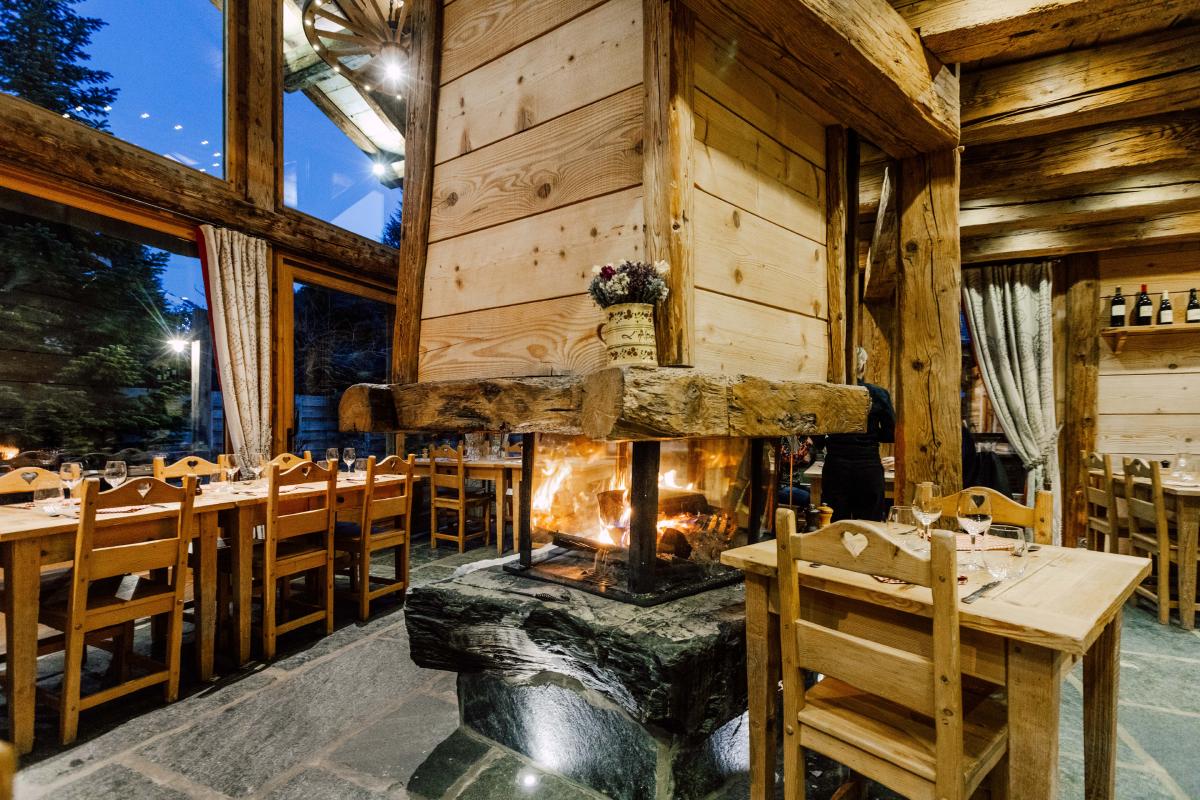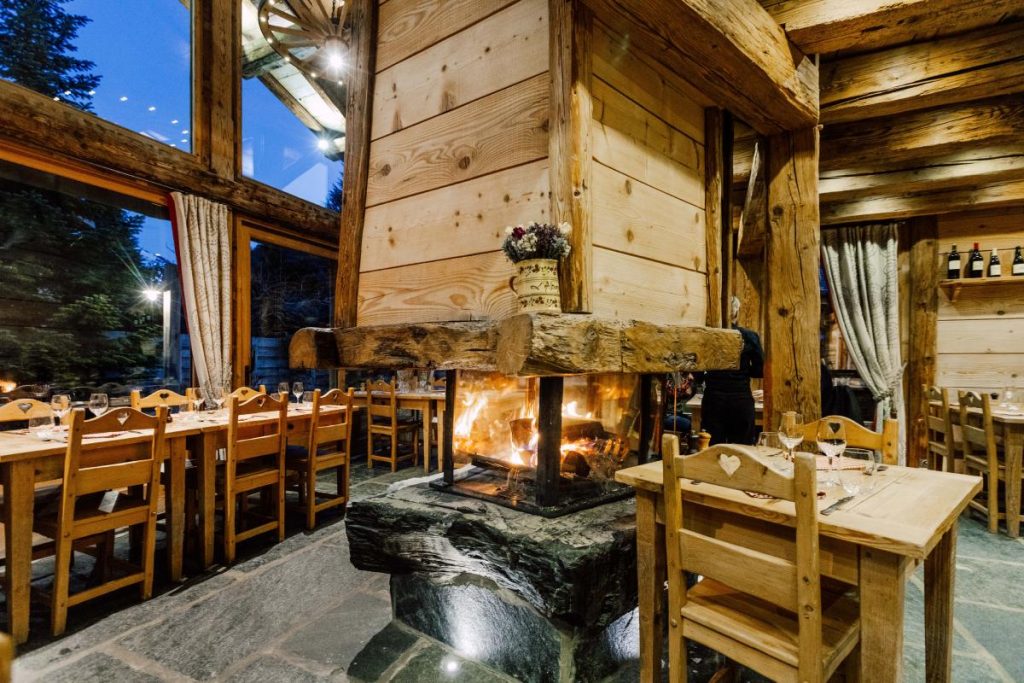 1. Restaurants in Morzine
Whether you're looking for traditional cuisine or gastronomic dining, the resort of Morzine is home to a plethora of restaurants offering all types of food for different budgets.
Restaurants we particularly like at The Farmhouse:
Traditional Restaurants in Morzine
La Fruitière Farm, La Rotonde, L'Etale, La Grange, La Chamade
Asian and/or Vegetarian Cuisine in Morzine
La Cachette, Le Bec Jaune, Kamado Kitchen
Pizza Restaurants in Morzine
L'Improviste, le Gusto e basta, Le Tyrolien, Le Coup de Coeur
Burger Restaurants in Morzine
Papa Renard, Ô Chalet, Au bon coin,
Family Friendly Restaurant in Morzine
Le Colibri
2. Mountain Restaurants in Morzine
For a well-earned lunch on the slope we recommend Chez Nannon, Le Vaffieu, Le Chasse Montagne, La Païka or l'Atray des Neiges for food between runs.
And for more restaurants at high-altitude, have a read of our article on 10 mountain restaurants in Morzine for memorable dining on the slopes.
3. Bakeries and Pastry Shops in Morzine
La Bonbonnière (also a fantastic chocolate shop!), Chez Céline, Maison Tarvernier
4. Cafes in Morzine
The Satellite, Au P'tit Casse-Croûte
Where To Go For a Night Out in Morzine
As is tradition, after a day on the slopes on the Portes du Soleil, be it skiing or snowshoeing, you are absolutely entitled to a relaxing glass of something stronger when you're done. Morzine offers many fun and friendly bars for you to sit on a terrace and admire the sunset over a beer or a glass of wine whilst the children play in the snow.
For those wishing to continue the fun into the night there are many options including bowling, the cinema or one of the organised concerts or events regularly held in the town.
You can find events for winter and summer here on the Morzine Avoriaz agenda.
Unmissable Winter Bars in Morzine
Le Tremplin – Located at the foot of Pleney, Le Tremplin offers great energy and good vibes with regular live DJ sets held outdoors for the ultimate apres ski.
La Folie Douce – At the edge of the Avoriaz slopes, La Folie Douce is THE bar to go to in order to let your hair down and party after a day on the mountain!
The Happy Hour Bar – Located in Ardent this friendly establishment offers lively Happy Hours on Wednesday afternoons.
Other Bars in Morzine
If the previous bars don't take your fancy there are plenty more to choose from, including:
The Cavern Bar, Tibetan Café, Laurys' Bar, Roger's Bar and Dixie Bar.
Not to mention Bar Robinson: one of the oldest bars in Morzine and where you can taste the famous local beer Mützig Old Lager (to be consumed in moderation!).
Nightclubs in Morzine
For an even later night, you can head to a nightclub in town for more drinks, music and partying!
The Café Chaud starts early in the evening and is very popular with young people. Head here and leave a little earlier to better enjoy your next day on the slopes!
If you want to stay out till the end of the night the Opéra Morzine nightclub is the ideal place to dance and have fun until you're ready to go home!
Where to Stay in Morzine
There are several accommodation options available throughout the resort. Depending on your needs and required facilities you can choose between:
Renting an Apartment
Renting a holiday apartment is the most economical form of accommodation but requires the most amount of effort. Having a kitchen will allow you to limit your restaurant expenses but you will have to do a small amount of cleaning and cooking for yourself throughout your stay.
Renting a Chalet
Renting a chalet is an excellent option if you are going with friends, provided that there are a lot of you! The price of a rental is €6,000 for a week on average in the high season in Morzine. You will also have to organise yourself for some meals and end-of-stay cleaning.
Staying in a Hotel
Whilst staying in a hotel is less economical than renting an apartment or a chalet, it is the accommodation that promises you the most luxury and relaxation. Forget about cooking and cleaning and make the most out of your skiing holiday in Morzine.
The Farmhouse Hotel
Perfectly located a stone's throw from the town centre of Morzine, The Farmhouse hotel is one of the oldest buildings in the area. We offer the perfect cosy retreat for you to return to after your day on the slopes.
Stay in one of our charming rooms, each of which is spacious, comfortable and lovingly decorated. We pride ourselves on our warm welcome and attentive staff, as well as our delicious, home-cooked meals made with local and seasonal products. At The Farmhouse we are committed to ensuring every one of our guests has the best experience of Morzine and all it has to offer.
How to Get Around Morzine in Winter?
During the winter, the resort provides free shuttles for extra ease of access to the ski lifts and the slopes. Don't worry about finding a parking space, just hop into one of the free shuttles and get on the mountain!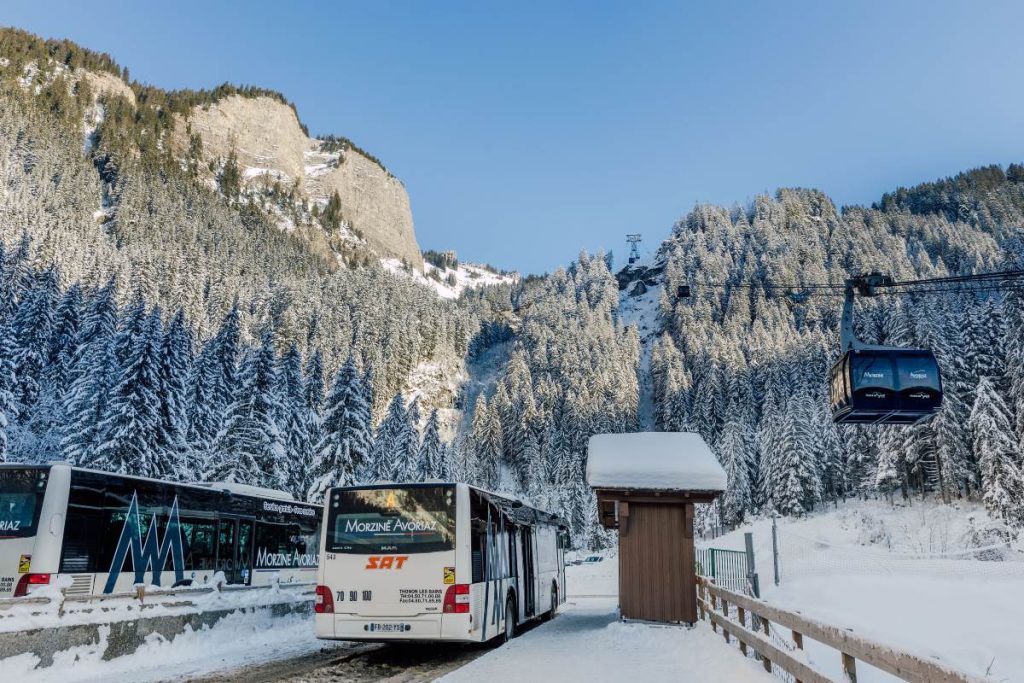 Other Useful Addresses in Morzine
Tourist Office: In the city centre, at 26 Place du Baraty
Medical centre: Along the route de la Plagne, about 1 km from the Super Morzine roundabout
Pharmacies: Route de la Plagne and Place de l'Eglise
Sports shops: Alpes Attitude, Artique, Ax Boutique, Baud Chausseur, Caribou, Félix Ski, Hubert Sport, Intersport, Sport 2000, Morz'na Sports
Souvenir shops: La Capitale, La Courterie, Les Planches, Nature et Compagnie, Savoie Fourrures
Food shops and Supermarkets: Carrefour Market, Spar, Casino, La Vie Claire
Local Products (charcuterie, cheese, wine, genepi, etc.): L'Alpage, La Ferme de Seraussaix, Le Grenier Morzinois, Le Panier Montagnard, Le Refuge de Marie-Louise